Naming Melancholy : le monde nocturne des Notebooks de S.T. Coleridge
L'écriture mosaïque des Notebooks du poète anglais Coleridge, écriture faite de bribes poétiques et métaphysiques, de citations, de descriptions de lieux, d'esquisses, de projets d'œuvres, porte en elle l'extrême diversité, richesse et complexité de la pensée du poète. Ces petites carnets avaient pour le poète une visée exploratoire : ils devaient rendre visible la naissance, l'évolution de ses pensées et leur cheminement vers la Vérité ultime du poète. Recherche tant sur la forme que sur l'in-forme, la matière textuelle et graphique des carnets témoigne en effet d'une volonté de percer le tangible pour explorer « l'envers du visible » et accéder à cette étincelle de divinité qui fonde toute âme. La complexité de l'acte de perception dans les Notebooks interroge néanmoins la notion d'être dans un lieu. Comment le voir affecte l'inscription du sujet dans l'espace ? Cette question trouve une résonance dans l'acte de nommer les lieux : le « naming places » des romantiques anglais. La disparition progressive des noms de lieux dans les Notebooks ne se ferait-elle pas le reflet d'une difficulté à ancrer le corps dans le monde naturel et à habiter poétiquement l'espace ? Peu à peu, le nocturne devient à la fois le lieu et l'écriture privilégiés des Notebooks, une tentative vaine de conférer une substance à ce point insaisissable qui est au cœur de la quête mélancolique.
The mosaic-writing of Coleridge's Notebooks, made of poetic fragments, metaphysical thoughts, quotes, descriptions of places, sketches, literary projects, reflects the extreme diversity, richness and complexity of Coleridge's thought. The process of private writing was for Coleridge as much an exploration of the formed matter as of the unformed. The graphic and textual material of the Notebooks reveals his desire of piercing into the depths of the natural world, of going beyond the visible to have a glimpse at this spark of divinity present in every man's soul. The complexity of the act of seeing in the Notebooks raises questions though about the act of being in the world. How does the gaze affect the way the subject finds a habitation in the world? This question finds a semantic echo in the romantic act of "naming places". The gradual disappearance of the names of places in the Notebooks may be related to an impossible rooting of the body in the natural world and thus an impossible poetic relation to the world and to the other. The Nocturnal then gradually becomes the privileged moment and writing in the Notebooks, a hopeless attempt to give substance to this vanishing point which is at the heart of melancholia.
Fichier principal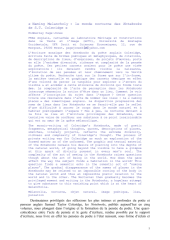 VARIA2014_1 ROMANTISME KPJones.pdf (431.07 Ko)
Télécharger le fichier
Origin : Files produced by the author(s)