Refrain from standards? French, Cavemen and Computers
Focusing on the history of prehistoric archaeology in the 20th century, this papers shows (1) that statistical multidimensional analyses were carried out by a new kind of actors who challenged the previous common language shared by prehistorians. This fundamental change was important, considering that (2) language is a fundamental point for the epistemology of archaeology. However, a comparison of multidimensional analyses applications over time shall make clear that (3) the differences are mostly a generational matter: the transmission processes between them will be addressed.
Considérant l'archéologie préhistorique au 20e siècle, cet article montre que (1) les analyses statistiques multidimensionnelles ont été développées par une nouvelle catégorie d'acteurs, défiant de fait le langage commun employé jusqu'alors par les préhistoriens. Ces transformations profondes ont été importantes dans la mesure où (2) le statut du langage est un aspect fondamental de l'épistémologie de l'archéologie. Néanmoins, une comparaison des applications des analyses multidimensionnelles au cours du temps montre clairement que (3) les changements impliqués sont avant tout liés aux générations: les processus de transmission entre ces générations sont ainsi examinées.
Fichier principal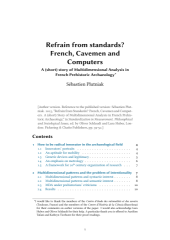 Plutniak_2015_Refrain-from-standards-French-Cavemen-and-Computers.pdf (165.8 Ko)
Télécharger le fichier
Origin : Files produced by the author(s)