La théologie du « combat spirituel »
The vocabulary and practices of "Spiritual Warfare" began to spread in Evangelical circles at the end of 1980s and the early 1990s, under the influence of American missiologists. It first aimed to struggle against the secularisation of Western societies – especially in big cities – and finally gave birth to a global movement that brought decisive changes in Pentecostals/Charismatics' relation with territory, cultural identities and politics. Spiritual Warfare contributes to a reterritorialization of the Pentecostal/Charismatic imaginary, especially through Spiritual Mapping practices involving the exploration of space and history in order to identify "spiritual strongholds", "gates" and "keys" which determine the outcome of this "war of spiritual liberation" of cities and nations. This return of territory goes with a new Charismatic representation of indigeneity, which notably draws on anthropological readings, as the theologians of Spiritual Warfare aim to take "more seriously the worldviews of non-western traditional societies" that deal with territorial spirits (Ediger). This reshaping of the symbolical bound between the individual and the territory results in recognizing indigenous peoples as the "Gate Keepers" of their native territories. Political activism inspired by this Charismatic ideology fights for the establishment of "Christian nations", a political ideology in which the defense of "indigeneity" (also understood as national identity) and Christian identity tends to contradict the building of pluralist and democratic societies based on the recognition of religious and cultural diversity. Based on fieldwork in Europe, Pacific Islands and Asia, this chapter examines different kinds of Evangelical activism inspired by the theology of Spiritual Warfare, to clarify the issues at stakes relating to this Charismatic globalization.
Le thème du « combat spirituel » (Spiritual Warfare) s'est diffusé dans les milieux charismatiques au tournant des années 1980-90, sous l'impulsion de missiologues nord-américains. Inspiré à l'origine par une volonté de lutter contre la sécularisation des sociétés occidentales – et plus particulièrement les grandes agglomérations urbaines – il a donné naissance à un mouvement globalisé, porteur de plusieurs ruptures décisives dans le rapport pentecôtiste/charismatique au territoire, aux identités culturelles et à la politique. En premier lieu, le « combat spirituel » contribue à une reterritorialisation de l'imaginaire pentecôtiste/charismatique, notamment à travers des pratiques de « cartographie spirituelle » (Spiritual Mapping) consistant à explorer l'espace et l'histoire afin d'identifier les « bastions », les « portes » et les « clés » dont dépend l'issue de cette « guerre de libération spirituelle » des villes et des nations. Ce retour du territoire s'accompagne d'un nouveau discours charismatique sur l'autochtonie : s'inspirant notamment de la littérature anthropologique, les théoriciens du « combat spirituel » entendent en effet « prendre au sérieux les conceptions des sociétés traditionnelles non-occidentales » (Ediger) relatives aux esprits territoriaux. Cette reconfiguration des liens symboliques entre individu et territoire les conduit à accorder aux peuples autochtones un statut de « gardiens spirituels » (Gate Keepers) des territoires. L'engagement politique qui découle de cette idéologie charismatique vise l'instauration de « nations chrétiennes », un idéal politique dans lequel la défense de l'autochtonie et de l'identité chrétienne tendent à s'opposer au développement de sociétés démocratiques plurielles fondées sur la reconnaissance des diversités culturelles et religieuses. En combinant plusieurs terrains de recherche (en Europe, en Océanie et en Asie) et en analysant différents types d'actions militantes inspirées par la théologie du « combat spirituel », cette communication éclairera les principaux enjeux de cette globalisation charismatique.
Fichier principal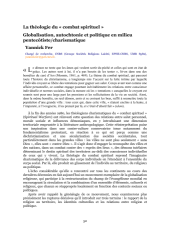 neopentecotismes-yf.pdf (523.28 Ko)
Télécharger le fichier
Origin : Publisher files allowed on an open archive