Sur les bords de la protestation sociale. Illustrations sud-africaines
This article echoes the now recurring calls to broaden the conceptualization of social movements. Moving away from classic definitions, the author suggests that certain elements of protest activity can be better understood through an examination of its actors in their most ordinary and daily social relations as opposed to the exceptional moments when they face political power. This study is based on a series of inquiries conducted since 2009 in various South African urban areas with active militants affiliated with organizations shaping the agenda on social discontent. More specifically, this article draws attention to how these collectives develop ties with their most immediate social environment, that is in impoverished, working-class neighborhoods.
Cet article fait écho aux appels désormais récurrents en faveur d'un « élargissement » de la conceptualisation des mouvements sociaux. S'écartant des définitions consacrées, l'auteur y fait l'hypothèse que l'on peut comprendre certains éléments de l'activité contestataire en étudiant ses acteurs dans le cadre de relations sociales ordinaires et quotidiennes, loin de tout rapport au pouvoir politique. Il s'appuie pour cela sur une enquête conduite depuis 2009 dans différentes zones urbaines sud-africaines, au contact d'activistes sociaux actifs dans des organisations encadrant le mécontentement social. Il s'agit, plus précisément, d'aborder ces collectifs au travers des liens qu'ils cultivent avec leur environnement social le plus immédiat, celui que composent les quartiers populaires.
Fichier principal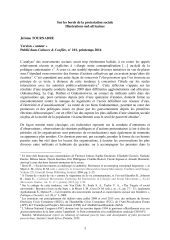 Protestation sociale Tournadre.pdf (350.67 Ko)
Télécharger le fichier
Origin : Files produced by the author(s)