A failed precedent: Distilbene® and the endoctrine disruptors. Contribution to a a sociology of ignorance
Un precedente fallido : el Distilbène® y los disruptores endocrinos. Contribución a una sociología de la ignorancia
Un précédent manqué : le Distilbène® et les perturbateurs endocriniens. Contribution à une sociologie de l'ignorance
Diethylstilbestrol (D.E.S.) has been identified in the early 1990s as the first endocrine disruptor, from which the long-term effects of many chemicals on human reproductive capacity can be expected. Yet, the D.E.S French history is one of forgetfulness, neglect and refusal of learning that were repeated until the early 2010s. On the basis of a qualitative sociological research, this article sheds light on the different mechanisms in the production of ignorance that made DES a failed precedent. We identified three complementary processes to understanding the marginalization of this issue: the lack of identification of exposed populations, low accumulation and dissemination of knowledge, long-term isolation. .
A pesar de haber sido identificado ya desde comienzos de los años 90 como el primer disruptor endocrino sobre el cual anticipar los efectos a largo plazo de una gran cantidad de sustancias químicas sobre la capacidad reproductiva humana, la historia francesa del Distilbène® es la del olvido, de la negligencia y del rechazo de aprendizaje que se repetiría hasta principios de los años 2010. Sobre la base de una encuesta sociológica cualitativa, este artículo propone aclarar los diferentes mecanismos de producción de la ignorancia que hicieron del Distilbène® un precedente fallido. Tres procesos son identificados para la comprensión de la marginación de esta cuestión : la falta de identificación de las poblaciones expuestas, la baja acumulación y difusión del conocimiento, así como la singularización durable de este asunto.
Le Distilbène a été identifié dès le début des années 1990 comme le premier perturbateur endocrinien, à partir duquel on peut anticiper les effets à long terme d'un grand nombre de substances chimiques sur la capacité reproductive humaine. Pourtant, l'histoire française du Distilbène® est celle d'oublis, de négligences et de refus d'apprentissage qui se répétèrent jusqu'au début des années 2010. Sur la base d'une enquête sociologique qualitative, cet article éclaire les différents mécanismes de production d'ignorance qui firent du Distilbène® un précédent manqué. Nous avons identifié trois processus complémentaires permettant de comprendre la marginalisation de ce dossier : l'absence d'identification des populations exposées, la faible accumulation et diffusion des connaissances, la singularisation durable du dossier.
Fichier principal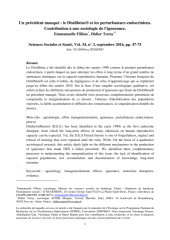 Fillion_Torny_SSS_Distilbene_Ignorance.pdf (96.25 Ko)
Télécharger le fichier
Origin : Files produced by the author(s)