La diffusion internationale de la catégorie de "Juste parmi les Nations". (Re)penser l'articulation entre diffusion des droits de l'homme et globalisation de la mémoire
The transnationalization of the « Righteous among the Nations ». New perspectives on the relationship between Human Rights diffusion and globalization of memory Since the early 2000s, "memory" has become a tool of development of Human rights policies, in post-conflict societies as in old democracies, as much as transnational scale as within national frameworks. This evolution has been seen so far as a sign of the birth of a global memory, this "cosmopolitan memory" – brought first and foremost by the memory of the Holocaust – and expected to be a vector of human rights. The globalization of the memory of the "Righteous Among the Nations" as humanitarian figures gives the opportunity to question empirically this apparent link between memory and human rights. In doing so, this article aims to identify what else than the "global" and the "humanitarian" can be at stake in these so-called "memory" policies. In doing so, this article crosses neo-institutionalist approach and discursive approach to public policy in order to revisit the linkage between strategic, cognitive and institutional dimensions at the heart of the memory processes.
Depuis le début des années 2000, la « mémoire » est devenue un outil des politiques de développement des Droits de l'homme, dans des pays en sortie conflit comme dans des démocraties anciennes, à l'échelle transnationale comme au sein de cadres nationaux. Cette évolution est régulièrement interprétée comme le signe d'une mémoire globalisée, cette « cosmopolitan memory » – portée d'abord et avant tout par le souvenir de l'Holocauste – et vecteur de diffusion des droits de l'homme. La globalisation de la mémoire des « Justes parmi les Nations » et de leur constitution en figures humanitaires exemplaires fournit l'occasion de questionner, empiriquement, ce lien apparent entre mémoire et droits de l'homme pour cerner, en amont comme en aval, ce qui est susceptible de se jouer d'autres que le «global» et «l'humanitaire» dans ces politiques dites de «la mémoire». Ce faisant, cet article croise approche néo-institutionnaliste et approche discursive des politiques publiques pour revisiter l'articulation entre dimensions stratégique, cognitive et institutionnelle au cœur des processus mémoriels.
Fichier principal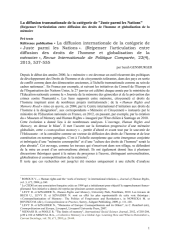 La diffusion internationale de la catégorie HAL SHS.pdf (285.71 Ko)
Télécharger le fichier
Origin : Files produced by the author(s)