Resource Mobilization and Trajectories of Brazilian Economically Dependent Self-employed Workers
Mobilisation de ressources et trajectoires de Travailleurs Indépendants Economiquement Dépendants brésiliens
Mobilização de recursos e trajetórias de Trabalhadores Autônomos Economicamente Dependentes brasileiros
The Economically Dependent Self-employed Workers (EDSW) illustrate the growing porosity of the boundary between employment and self-employment. Combining a legal status of self-employed worker with an economic dependency on one client that provides most of their income, they stand in a grey zone of labor market. Th anks to a fi eld research carried out with professionals of the Information Technology (IT) sector from Porto Alegre, we ask about the vulnerability of these workers excluded from the Brazilian labor law. We suggest an analysis of these trajectories that lays emphasis on the mobilization of many types of resources as a founding element of security.
Les Travailleurs Indépendants Économiquement Dépendants (TIED) illustrent la porosité croissante de la frontière entre emploi salarié et travail indépendant. Dans la mesure où ils associent une indépendance juridique à une dépendance économique vis-à-vis d'un client dont provient plus de la moitié de leurs revenus, ces travailleurs se situent dans une zone grise entre salariat et travail indépendant. A partir d'une enquête réalisée auprès de professionnels brésiliens du secteur des Technologies de l'Information (TI), nous posons la question de la vulnérabilité de ces travailleurs exclus des protections du droit du travail et nous proposons une analyse de leurs trajectoires qui met l'accent sur la mobilisation de ressources de plusieurs types comme élément fondateur de sécurité.
Os Trabalhadores Autônomos Economicamente Dependentes (TAEDs) ilustram a porosidade crescente da fronteira entre emprego assalariado e trabalho autônomo. Ao associar uma autonomia jurídica a uma dependência econômica em relação a um cliente que aufere a maior parte da sua renda, eles situam-se numa zona cinzenta do mercado de trabalho. A partir de uma pesquisa de campo realizada com profi ssionais do setor de Tecnologia da Informação (TI) de Porto Alegre, perguntamos acerca da vulnerabilidade desses trabalhadores excluídos das proteções da Consolidação das Leis do Trabalho (CLT) e propomos uma análise das suas trajetórias que enfatize a mobilização de recursos de vários tipos como elemento fundador de segurança.
Fichier principal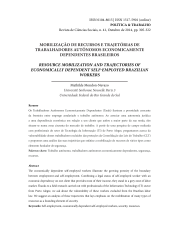 21341-45448-1-PB.pdf (170.05 Ko)
Télécharger le fichier
Origin : Publisher files allowed on an open archive