Le design est-il soluble dans l'administration? Trois trajectoires d'institutionnalisation de l'innovation publique
This article explores the institutionalization process – through a specific organizational setting – of public policy design. Our analysis is based on the empirical study of three apparatuses of public innovation at three different administrative scales in France (National state, Region, Department). Beyond similar characteristics of emergence, we show that the anchoring, development and legitimacy of theses IOT (Innovation-Oriented Teams) largely depend on organizational tactics. Above all, their institutionalization relies on a process of "metabolization" of design methods that is contingent to each IOT and that allows them to enrole key actors such as elected representatives and managers. We conclude by highlighting the pragmatic and careful aspects of their strategy – and their plastic approach of design – that enables them to move forward to a hybridization of public bureaucracies.
L'article porte sur l'institutionnalisation – à travers un dispositif organisationnel dédié – de démarches de design dans les services publics. Notre analyse s'appuie sur l'étude de trois dispositifs d'innovation publique en France à trois niveaux administratifs différents (Etat, Région, Département). Nous montrons que, au-delà de processus d'émergence comparables, l'ancrage, le développement, et la légitimité des Equipes Dédiées Innovation (EDI) que nous étudions sont dépendants de tactiques organisationnelles. Surtout, leur institutionnalisation repose sur une « métabolisation » du design spécifique à chacune d'entre elles, qui leur a permis d'enrôler des acteurs-clés, élus et managers notamment. Nous concluons sur l'intérêt de cette stratégie pragmatique et prudente des EDI, manipulant une conception très plastique du design, qui leur permet peut-être d'avancer sur la voie d'une hybridation des bureaucraties publiques.
Fichier principal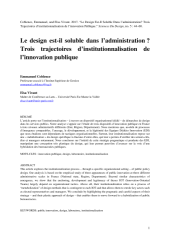 Hal Coblence Vivant design.pdf (138.52 Ko)
Télécharger le fichier
Origin : Files produced by the author(s)