Zur kommunikativen Logik der Satire Semantisch-pragmatische Bemerkungen über ›Die letzten Tage der Menschheit‹ von Karl Kraus.
Karl Kraus' Werk, vor allem sein Drama ›Die Letzten Tage der Menschheit‹, gilt spätestens seit Hermann Brochs Erläuterungen in ›Hofmannsthal in seiner Zeit‹ als Inbegriff der Satire resp. der " Absolut-Satire ". Im Vergleich zum Begriff der Ironie, die seit über dreißig Jahren ein konstanter Gegenstand der Forschung sowohl bei Literatur-und als auch bei Sprachwissenschaftlern bildet, blieb Satire als Begriff weniger beachtet. So gibt es zum Beispiel keine international anerkannte umfassende pragmatische Analyse der Satire, während das Studium der Ironie seit Sperber&Wilson (1981) über einen konsensfähigen theoretischen Rahmen verfügt. Dieser Unterschied mag daran liegen, dass Satire gerne als literarische Gattung oder als Genre betrachtet wird, während Ironie seit Längerem als Ausdrucksweise bzw. Äußerungsform gilt. Analog zu den modernen Theorien der Ironie wäre es aber wohl angezeigt, eine entsprechende semantische und pragmatische Kennzeichnung auch der Satire anzustreben. Über die Interpretation der Letzten Tage wäre es dann möglich zu bestimmen, ob die Satire eine charakteristische enunziative Struktur aufweist, die sich ggf. von dem angenommen Modell der Ironie unterscheidet. Für eine solche sprachtheoretische Herangehensweise ist Kraus' Werk von besonderer Brisanz, denn das Verhältnis zwischen Wahrheit und Äußerung, das der Semantik und Pragmatik als Hauptproblem zu Grunde liegt, ist auch eine, wenn nicht die, Kernfrage von Kraus' Schaffen. Die Satire ist bei Kraus immer (wenn auch nicht ausschließlich) eine Satire der sprachlichen Sitten und Unsitten seiner Zeitgenossen. Sprachmissbräuche sind Missbräuche an der Wahrheit und an dem Sein und damit das Zeichen eines moralischen Versagens (s. dazu Stern 1966, Bähr 1977:98ff. 1 oder Wagenknecht 1965:125-137). Für eine semantisch-pragmatische Analyse der Satire bedeutet dieser wohlbekannte Umstand, dass die Verhaltensweisen, die in der Kraus'schen Satire angepeilt werden, vor allem Sprachverhalten sind. Kraus selber hat in seinen Nestroy-Aufsätzen auf diesen Umstand aufmerksam gemacht, dass der Satiriker immer auch, wenn nicht vor allem, ein Satiriker der Sprache ist (dazu s. Lacheny 2008:84-92). Die Sprache und ihr Gebrauch sind zugleich Mittel und Zweck der Satire (Daviau 1961:49-50.). Kraus bietet – davon geht die vorliegende Studie aus – eine beispielhafte Matrix für rein sprachliche Strategien der Satire. In dieser Perspektivik wollen wir im Folgenden eine Analyse der Kommunikationsformen und der argumentativen Logik in Karl Kraus' Opus Magnums wagen: ›Die Letzten Tage der Menschheit‹. 1 Zuerst sollen einige Grundannahmen über Satire und Standardfälle dramatischer Kommunikation erörtert werden, um das Spannungsverhältnis von Drama und Satire in den ›Letzten Tage der Menschheit‹ (fortan Sigle LTM) darzustellen. Anschließend (Abschnitt 2) soll das Versagen der sprachlichen Kommunikation anhand des pragmatischen Modells der Konversationsmaximen (Grice 1975) beschrieben werden. Im Zentrum (Abschnitt 3) steht die Differenz zwischen Gebrauch und Anführung einer sprachlichen Form, die von Sperber&Wilson (1981) für die pragmatische Analyse der Ironie angelegt wird. Abschnitt 4 skizziert ein semantisch-pragmatisches Modell der Satire, das auf Fragen der Referenz und des 'indirekten Redens' beruht. Abschnitt 5 entwickelt dieses Modell weiter und kommentiert den Sonderfall des Nörglers, des problematischen Ebenbilds von Karl Kraus. Schließlich wird dem allerletzten Zitat des Textes besondere Aufmerksamkeit gewidmet (Abschnitt 6) und eine Bilanz der Studie gezogen (Abschnitt 7).
The article sketches a pragmatic model of theatrical satire based on Karl Kraus's ›Last Days of Mankind‹. The systematic violation of the communicative rules of theater is interpreted on the background of the pragmatic models of irony as mention of foreign contents. It is shown that this model needs to be corrected in order to meet with the characteristics of Kraussian satire. Finally, the proposed model is used to interpret some precise passages of the play.
Fichier principal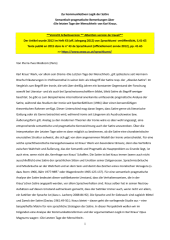 A01_Modicom_Kraus_Satire_red_KORR MODICOM.pdf (209.65 Ko)
Télécharger le fichier
Origin : Files produced by the author(s)