Le manuscrit Montpellier 157 de Mannon de Saint-Oyen et la collection De pascha de Florus de Lyon
MS. Montpellier, BU Fac. Médecine, 157 contains the Latin translation of an eastern late Antique bishop's letter, whose original Greek text appears to be lost ; strangely enough, this text has remained totally unpublished to this day. It is the opening text of a handbook on Easter computus that was compiled around 840 by Florus of Lyons ; Montpellier 157, which was copied in 848 by someone we know close to Florus, Manno of Saint-Oyen, is the only extant witness of this « De pascha collection ». This Carolingian Lyonnais miscellany would be the only trace of this letter's very existence - had not Saint Augustine himself drawn upon this Liber Timothei episcopi de pascha. In anticipation of the edition and analysis of this text that I am currently preparing with Camille Gerzaguet, this article explores its general context : a description and analysis of Florus' handbook, as well as a material description and a bio-bibliography of the unique witness. These elements shed light on the reasons why Florus saved this most rare text from oblivion, as well as the reasons why the text escaped, until now, the vigilance of modern and contemporary scholars.
Le manuscrit Montpellier, BU Fac. Médecine, 157 contient une lettre d'évêque orientale tardo-antique, en traduction latine, dont le texte original grec ne semble pas conservé, et qui est étrangement restée inédite jusqu'à ce jour. Elle y apparaît en tête d'un manuel sur le comput pascal élaboré vers 840 par Florus de Lyon, la « collection De pascha », dont Montpellier 157, copié en 848 par un fidèle de Florus, Mannon de Saint-Oyen, est l'unique témoin conservé. Ainsi, ce recueil carolingien lyonnais serait la seule trace de l'existence de cette lettre - si saint Augustin n'avait pas lu, de manière certaine, ce Liber Timothei episcopi de pascha. En attendant l'édition et l'étude du texte, que je prépare actuellement avec Camille Gerzaguet, ce premier article entend donner des éléments de contexte : description et analyse du manuel de Florus, description matérielle et bio-bibliographie du témoin. On éclaire ainsi à la fois les raisons pour lesquelles Florus a sauvé ce texte rarissime d'une disparition complète, et les raisons pour lesquelles ce texte a échappé jusqu'ici à la vigilance des érudits modernes et des chercheurs contemporains.
Fichier principal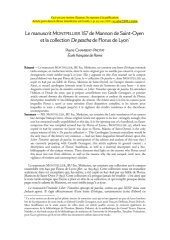 Timothei-premierarticle_pourHAL.pdf (590.39 Ko)
Télécharger le fichier
Origin : Files produced by the author(s)