Ultime défaite d'Athènes ou sa plus belle victoire ? Stratégies rhétoriques autour de la bataille d'Aigos-Potamoi dans le Panathénaïque d'Aelius Aristide
It may seem somewhat odd to study the way by which the defeat of Aigos-Potamoi is described in a discourse which is an utter praise of the excellence of Athens as is the Panathenaic Oration of Aelius Aristides. Nevertheless, the account of this event (§ 252-263) is significant. Thanks to two successive rhetorical stratagems (move to the Thirty episode and comparison with Marathon), the battle of Aigos-Potamoi is concealed as a defeat and changed into victory. Besides, this defeat is both anticipated and extended through the oration. Upstream, it makes clear a special feature in the discourse's organisation (the reason why Aristides chooses a comparative point of view, which suddenly breaks the narrative) ; downstream, Athens' defeat and surrender becomes a reference event, which shows the perfect behaviour both in failure and – more paradoxically – in success. We must also take into account the Roman political context. Through the main battles fighted by Athens, Aristides also considers more generally the meaning of conflicts, leagues and truces and, in this way, with Athens' main misfortune begins what looks like a policy of clementia. Finally, Aigos- Potamoi also means that now victories and defeats are not necessarily antithetical events.
Il peut sembler un peu étrange d'examiner la présentation de la défaite d'Aigos-Potamoi dans un éloge inconditionnel de l'excellence d'Athènes comme l'est le Panathénaïque d'Aelius Aristide. Toutefois, le récit qui entoure cet événement (§ 252-263) en dit long. Grâce à deux subterfuges rhétoriques successifs (glissement vers l'épisode des Trente et comparaison avec la victoire de Marathon), la bataille d'Aigos-Potamoi est escamotée comme défaite et transformée en victoire. Par ailleurs, cette défaite est à la fois anticipée et prolongée dans le discours. En amont, elle explique une particularité de la structure de l'éloge (le choix d'un angle de vue comparatif, qui interrompt soudain la narration) ; en aval, la défaite et la capitulation d'Athènes deviennent un événement de référence, chargé de fixer le comportement modèle à la fois dans la défaite et, paradoxalement, dans la victoire. Il convient de replacer le traitement de cet événement dans le contexte politique romain. À travers les grands combats livrés par Athènes, Aristide offre une réflexion sur les conflits, les alliances et les trêves et dans cette perspective, le « malheur » d'Athènes à Aigos-Potamoi inaugure une politique de clementia. Il signifie aussi que victoires et défaites désormais ne s'opposent plus nécessairement.
Fichier principal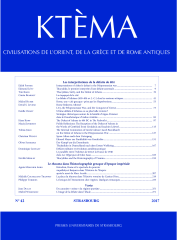 KTEMA42_2017_Oudot.pdf (519.33 Ko)
Télécharger le fichier
Origin : Publisher files allowed on an open archive