Le Caire – Paris à la fin des années 1860
At the end of the 1860s, Cairo and Paris had, a priori, very few elements in common that could contribute to a comparative study. However, Ismaïl Pasha, who was at the time responsible for the administration of the Province of Egypt, set up several major projects for territorial development. Preparations for the inauguration of the Suez Canal in 1869 acted as a catalyst for his ambitions. No less than 230 hectares of new districts – in 1868, the whole of the city area covered about 1000 hectares – were created in Cairo in a few years. They were equipped with new public buildings, including an opera house, a theatre, hotels, etc. These construction projects were often called "Cairo's Haussmannian programme". In this article, the author seeks to assess the validity of this expression and reveals that it was far from appropriate in several domains.
A la fin des années 1860, Le Caire et Paris présentent a priori assez peu de points communs susceptibles de nourrir une comparaison. Mais Ismaïl pacha, alors chargé de l'administration de la province égyptienne, a des grands projets d'aménagement. La préparation de l'inauguration du canal de Suez en 1869 catalyse ses ambitions. Pas moins de deux cent trente hectares de nouveaux quartiers — en 1868, l'ensemble de l'agglomération en compte environ mille — sont ainsi fondés au Caire en quelques années. Ils sont équipés d'édifices publics nouveaux tels qu'un opéra, un théâtre, des hôtels… Ces travaux sont souvent qualifiés « d'haussmannisation du Caire ». Cet article se propose d'évaluer cette qualification, elle se révèle abusive dans plusieurs domaines.
Fichier principal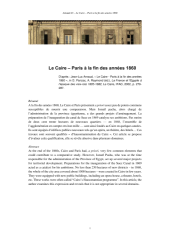 43_Le_Caire_Paris.pdf (498.3 Ko)
Télécharger le fichier
Origin : Files produced by the author(s)