Les représentations du risque sismique à Beyrouth et Bourj Hammoud
The It seems that the readiness of a given population to sismical risk is correlated to the level of knowledge people have on the seismical phenomenon and building control, according to the conception of resilient urbanism. Considering anarchical re-building in Lebanon and the absence of any urbanist vision, the awareness about seismical risk appear to be imperative. Growing urbanization of human populations provokes statistical increasing of seismical catastrophes. The goal of this study is to address both knowledge and safety issues through a fieldwork conducted in parthernship between Lebanese National CEntre for Scientific Researc and Université Saint Joseph, with suppor of french institutions (IFPO, CNRS, IRD). Fieldwork was conducted in Arabic, French and Western Armenian.
La préparation d'une population au risque sismique dépend semble-t-il de sa connaissance du phénomène, du contrôle des constructions, dans la conception d'un urbanisme résilient aux catastrophes. Face à la re-construction anarchique et à l'absence de vision en matière d'urbanisme, la prise de conscience de risques sismiques nous paraît impérative au Liban. La croissance de l'urbanisation des populations humaines provoque l'augmentation statistique des catastrophes sismiques. L'objectif de cette sérieuse étude est d'associer la connaissance et la prévoyance par le biais d'un travail de terrain mené en partenariat entre le CNRS libanais et l'équipe des sciences sociales de l'Université Saint Joseph, en plus du soutien d'institutions françaises (IFPO, CNRS, IRD). Le travail de terrain a été conduit en arabe,français et arménien occidental.
Fichier principal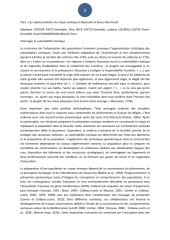 Analyse des representations du risque sismique beyrouth BH 190917.pdf (165.62 Ko)
Télécharger le fichier
Origin : Files produced by the author(s)