Le « bon cours » et le « mauvais cours »
This empirical study is part of research into teachers' conceptions of teaching but in a new context and with a new audience. It is based on a qualitative survey conducted by semi-directive interviews with 17 lecturers (in the job for three years at most and across a range of subject areas) about the notions of 'good' and 'poor' lessons. The analysis reveals (1) difficulties in defining what makes for a 'good' lesson and even more so a 'poor' lesson; (2) the narrow range of terms used and the fact that the terms characterize a 'good' lesson as both a process and an outcome; (3) the absence of conceptions in terms of academic subject areas, and (4) great difficulty in categorizing the conceptions identified within the models of Hativa, Barak, & Simhi (2001) and Fox (1983). This leads us to suggest a new typology.
Cette recherche empirique s'inscrit dans la lignée des recherches sur les conceptions de l'enseignement des enseignants mais dans un contexte et avec un public nouveau. Elle s'appuie sur une enquête qualitative par entretiens semi-directifs auprès de 17 Maîtres de Conférences (en poste depuis trois ans tout au plus et issus de diverses disciplines), à propos des notions de « bon cours » et de « mauvais cours ». L'analyse met à jour 1) des difficultés à définir ce qu'est un « bon cours » et plus encore un « mauvais cours » ; 2) le peu de variété de termes employés et le fait que ceux-ci établissent un « bon cours » comme un processus et un résultat ; 3) l'absence de conceptions de nature disciplinaires et 4) une grande difficulté à distribuer les conceptions relevées dans les deux modèles de Hativa, Barak, & Simhi (2001) et de Fox (1983). Ce qui nous amène à proposer une typologie nouvelle.
Fichier principal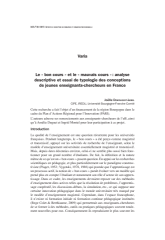 17118.pdf (469.32 Ko)
Télécharger le fichier
Origin : Publisher files allowed on an open archive