Umweltzertifikate im Verkehrsbereich
Der Markt für Umweltzertifikate (oder der Quoten) hat bereits bei der Eindämmung von Schwefeldioxidemissionen von amerikanischen Kraftwerken oder auch bei der schnellen Beseitigung von Blei im Benzin in der 1980er Jahren in den Vereinigten Staaten seine Wirksamkeit bewiesen. Was Treibhausgase angeht, so wird das europäische System zum Tausch von CO2-Austoßquoten zwischen ortsgebundenen Einrichtungen seit 2005 praktiziert. Ist dieses Instrument auch auf den Verkehrssektor anwendbar, wenn man die Belästigungen, die er hervorruft (Straßenüberlastung, Lärm, Luftverschmutzung, Treibhausgase) betrachtet? Dieses Buch stellt das Konzept des Marktes der Umweltzertifikate vor, analysiert seine Relevanz für die verschiednenen externen Effekte des Verkehrs, legt einige Anwendungsbeispiele dar und lässt eine gewisse Zahl an Vorschlägen Revue passieren. Mögliche Anwendungsbereiche und deren spezifische Entwicklungen hinsichtlich der CO2-Emissionen durch den Verkehr werden ebenfalls präsentiert.
Fichier principal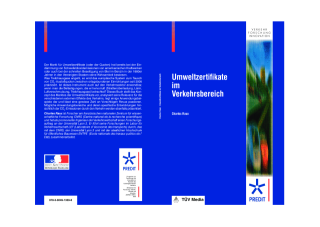 Umweltzertifikate_im_Verkehrsbereich.pdf (2.92 Mo)
Télécharger le fichier
Origin : Explicit agreement for this submission
Comment : With the kind permission of the editor, TÜV Media GmbH. With author and publisher of the copyright agreement. This PDF is under the copyright of TÜV Media GmbH.