Les Temps des territoires. Introduction du dossier thématique
This special section brings together a selection of contributions to the "Les temps des territoires" conference organized by the LADYSS laboratory in 2017. It presents a plurality of approaches centered on territories' temporalities, described through the spaces and their uses, projects and development actions. These approaches from different disciplines question the categories and the tools designed by experts, to measure the time and to analyze the spatio-temporal dynamics. It discusses notably the recurrent use of reference conditions to conduct a project, or the injunction to adapt to climate change. These papers examine the meaning that inhabitants and actors give to the territories trajectories and the resulting retrospective or prospective constructions. This set of proposals has a methodological and reflexive ambition: what is debated in development choices and the meaning given to collective action, as well as the place that researchers can take there.
Ce dossier thématique rassemble une sélection des contributions au colloque « Les temps des territoires » organisé par le LADYSS en 2017. Il présente une pluralité d'approches centrées sur les temporalités des territoires, décrites à travers les espaces et leurs pratiques, les projets et les actions d'aménagement. Ces approches issues de différentes disciplines permettent de questionner les catégories et les outils conçus par les experts, pour mesurer le temps et analyser les dynamiques spatio-temporelles. Il s'agit plus particulièrement d'interroger l'usage récurrent d'un état de référence pour mener un projet, ou de discuter l'injonction à l'adaptation au changement climatique. Elles examinent le sens que les habitants et acteurs donnent alors aux trajectoires de leurs territoires et aux constructions – rétrospectives, prospectives – produites. Cet ensemble de textes a une ambition méthodologique et réflexive sur ce qui est mis en débat dans les choix d'aménagement et sur le sens donné à l'action collective, ainsi qu'à la place que peuvent y prendre les chercheurs.
Fichier principal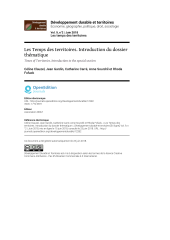 developpementdurable-12282.pdf (253.85 Ko)
Télécharger le fichier
Origin : Files produced by the author(s)