« Quaerite, et inuenietis ». Recherches sur l'exégèse augustinienne de Matth. 7, 7
Augustine of Hippo's allusions to Matth. 7, 7 are countless. The malleability of this verse, in which transitive verbs have no object, has led to a wide variety of interpretation, specialized according to literary genres, historical contexts and opponents. With this verse Augustine demonstrates the need for intellectual research in the tradition inaugurated by Clement of Alexandria and Origen. He reminds the Manicheans of the necessity of humility in scriptural exegesis; the Donatists of the need to interpret the Scripture in calm and peace; the Pelagians of the duty to pray in order to obtain grace, including the grace of initium fidei. In his sermons, involving his listeners in his own quest he urges them to pray and act in accordance with their faith, particularly in order to be able to understand the Scripture. Only the Inner Master gives enlightenment: this is the reason, within the Augustinian gnoseology, why assiduous research is inseparable from prayer.
Les allusions d'Augustin d'Hippone à Mt 7, 7 sont innombrables ; la malléabilité de ce verset dans lequel les verbes transitifs n'ont pas de complément a occasionné une grande diversité d'interprétations, spécialisées en fonction des genres littéraires, des contextes historiques et des adversaires. Avec lui, Augustin démontre la nécessité de la recherche intellectuelle, dans la tradition ouverte par Clément d'Alexandrie et Origène. Il rappelle aux manichéens l'humilité nécessaire dans l'exégèse scripturaire ; aux donatistes, la nécessité d'interpréter l'Écriture dans le calme et la paix ; aux pélagiens, l'obligation de la prière pour obtenir la grâce, y compris celle de l'initium fidei. Dans les sermons, impliquant ses auditeurs dans sa propre recherche, il les exhorte à prier et à agir conformément à leur foi, en particulier pour obtenir de comprendre l'Écriture. Le Maître intérieur donne, seul, l'illumination : tel est, dans le cadre de la gnoséologie augustinienne, le motif pour lequel la recherche assidue est inséparable de la prière.
Fichier principal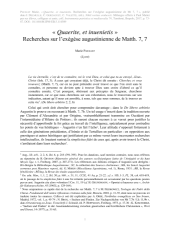 PAULIAT Marie_Quaerite et inuenietis_HAL.pdf (409.39 Ko)
Télécharger le fichier
Origin : Files produced by the author(s)