The "Obamarail": the Emergence of a New Railroad Geography in the United States
L'"Obamarail" : l'émergence d'une nouvelle géographie ferroviaire aux États-Unis ?
Today, there are no high-speed lines in the United States according to the International Union of Railways' standards, but one higher-speed rail example in the Northeast corridor. Several resounding failures occurred in succession in the 1980s and 1990s in Texas, in Florida and in Ohio. The "Obamarail" initiative in 2009 and 2010 gave a new momentum with additional funding dedicated to this new means of transport associated with concrete state commitments, with, however, variable levels of commitment. At the end of President Obama's second term, the efficiency of these initiatives as well as the reality of high-speed rail in the US are worth studying. In 2016, the only project under construction lies in California. Other states started modernizing the existing networks as well as improving Amtrak services, although private projects are under development in parallel. Most projects at hand are not high-speed rail strictly speaking. This article suggests reviewing the Obama administration's initiative in favor of high-speed rail from 2009 and examining the political and territorial difficulties at various institutional levels. This analysis will enable us to develop a reflection on the high-speed rail model in the US as well as on the political and territorial lessons to be learned of this federal initiative.
Il n'existe actuellement aucune ligne à grande vitesse aux États-Unis, selon les normes de l'Union Internationale des Chemins de fer (UIC), mais une seule ligne à vitesse plus élevée avec l'Acela Express dans le corridor Nord-Est. Plusieurs échecs retentissants se sont succédé dans les années 1980 et 1990 au Texas, en Floride, ou dans l'Ohio. L'initiative en faveur de la grande vitesse de l'administration Obama en 2009-2010 donne un nouvel élan avec des financements consacrés à ce nouveau mode de transport et un engagement réel, bien que non uniforme, des États aux côtés du gouvernement fédéral. Se pose la question, à la fin du second mandat du président Obama, de l'efficacité de cette initiative et de la réalité de la grande vitesse aux États-Unis. En 2016, seul le projet californien est en cours de construction. D'autres États sont engagés dans la modernisation du réseau existant et l'amélioration des services d'Amtrak, alors que se développent parallèlement des projets privés. La majorité des projets ne relèvent pas de la grande vitesse stricto sensu. Cet article propose d'établir un bilan de l'initiative en faveur de la grande vitesse ferroviaire lancée par l'administration Obama à partir de 2009, et d'analyser les difficultés politiques et territoriales à plusieurs échelons institutionnels rencontrées lors de la mise en place des corridors ferroviaires à grande vitesse. Cette analyse permet de développer une réflexion sur le modèle de la grande vitesse ferroviaire que les États-Unis développent ainsi que sur les leçons politiques et territoriales à tirer de cette initiative fédérale.
Fichier principal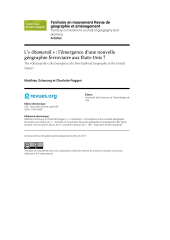 Article Schorung Ruggeri.pdf (1.04 Mo)
Télécharger le fichier
Origin : Publisher files allowed on an open archive