LUIGI RUSSOLO Y JOAQUÍN TORRES-GARCÍA: DESLIZAMIENTOS MUSICALES Y CIRCULACIONES ESOTÉRICAS
ABSTRACT: We follow the pictorial and musical career so different of two painters of the early twentieth century: the uruguayan Joaquin Torres-Garcia and the Italian Luigi Russolo. Both comprise the forefront of the moment, one from Constructivism and the other from Futurism, working together for the magazine " Cercle et Carré " , in Paris. Both are making a subtle alchemy of music and painting, one without abandoning the latter, the other removing the plastic arts to innovate from music. Analyze the theoretical influence of theosophy among members of the magazine provides insight subsequent topics both aesthetic, particularly for understanding the recurring themes in creator of the Latin American constructivism.
RESUMEN: Seguiremos la trayectoria pictórica y musical tan diferente, de dos pintores de principios del siglo XX : el uruguayo Joaquin Torres-García y el italiano Luigi Russolo. Ambos conforman la vanguardia del momento, uno desde el constructivismo y el otro a partir del futurismo, trabajando juntos para la revista "Cercle et Carré" de París. Ambos están haciendo una sutil alquimia de música y pintura, uno sin abandonar esta última, el otro quitando las artes plásticas para innovar desde la música. Analizar la influencia teórica de la teosofía entre los miembros de la revista, permite comprender temas posteriores de ambas estéticas, en particular para la comprensión de temas recurrentes en el creador del constructivismo latino-americano.
Fichier principal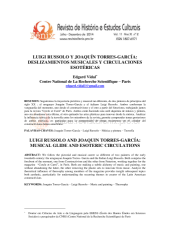 LUIGIRUSSOLOYJOAQUÍNTORRESGARCÍA.pdf (1.17 Mo)
Télécharger le fichier
Origin : Files produced by the author(s)