Internet et la communication RSE des entreprises du CAC40
Our article aims to analyzing the state of the art in the usage of Internet Technologies by the CAC40 corporations to externally communicate about their Corporate Social Responsibility (CSR). For that purpose, we present, at first, the theoretical framework of this research by specifying the theoretical stakes in the CSR, as well as the communication tools employed by companies. Then, we describe a quantitative study realized on the institutional Web sites of the CAC40 corporations in 2007 and in 2009-10 to identify the Internet services applied for the external communication on the CSR and their evolution over the time. The results of this study allow us finally to give a description of the Internet solutions adopted by the big French corporations and to open a reflection on the Web communication strategies on CSR.
Notre article se propose de faire le point sur l'usage des technologies Internet par les entreprises du CAC 40 en matière de communication externe de leur politique de Responsabilité Sociale et Environnementale (RSE). Pour cela, nous présentons, dans un premier temps, le cadre théorique de la recherche menée en précisant les enjeux théoriques de la RSE, ainsi que les outils de communications utilisés par les entreprises. Ensuite, nous décrivons une étude quantitative réalisée sur les sites web institutionnels des entreprises du CAC 40 en 2007 et en 2009-10 afin d'identifier les services Internet utilisés pour la communication externe de la responsabilité sociale et environnementale et leur évolution dans le temps. Les résultats de cette étude nous permettent enfin de donner une description des solutions Internet adoptées par les grandes entreprises françaises et de lancer une réflexion sur les stratégies de communication web de la RSE.
Fichier principal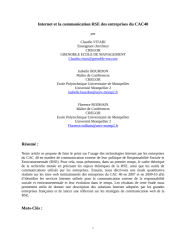 Vitari 2010AIM Internet et la communication RSE des entreprises.pdf (920.44 Ko)
Télécharger le fichier
Origin : Files produced by the author(s)