Etude de l'interaction entre dynamique paysagère et dynamique sociale Exemple du bassin versant de l'Ouvèze (Ardèche, France)
The landscape of the Ouvèze watershed has been managed by human for several millenia. The agricultural activity has deeply transformed these landscapes during the last 2000 years. We focused our study on this evolution over the last 2 centuries with an analysis of cadastres and using Landscape Ecology tools. Agriculture underwent many changes and crises perceptible at the scale of the watershed. These one will guide our analysis. In the years 1850, men colonized the medium mountains' space with an important agricultural activity. This one led to an overexploitation of the medium and an overpopulation, which involved the temporary rural migration of the end of the 19th century. One and a half-century later, constraints related to these mediums prevent the development of an intensive and mechanized agriculture. The agricultural declin is perceptible in the landscape with overgrowing of the abandoned agricultural land which leads to a propagation of moors (brooms). Thus, nowadays, this phenomenon involves the territory's closing on the catchment area, and induces a reduction of the landscape diversity which known its rise in the Fifties.
Le paysage du bassin versant de l'Ouvèze a été façonné par l'homme depuis plusieurs millénaires. L'activité agricole a profondément transformé ces paysages depuis 2000 ans ; nous nous intéresserons à cette évolution sur les 2 derniers siècles à partir de l'analyse cadastrale et des outils de l'écologie du paysage. L'agriculture a subi de nombreuses mutations et crises perceptibles à l'échelle du bassin versant; ce sont elles qui guideront notre analyse. Dans les années 1850, l'homme a colonisé l'espace de moyenne montagne avec une activité agricole forte. Celle-ci a conduit à une surexploitation du milieu et une surpopulation qui entraîna l'exode rural temporaire de la fin du 19 ème siècle. Un demi-siècle plus tard, les contraintes liées à ces milieux empêchent le développement d'une agriculture intensive et mécanisée. La déprise agricole se fait alors sentir au niveau du paysage avec l'enfrichement des terrains agricoles abandonnés qui conduit à une propagation des landes à genêts. Ainsi, à l'heure actuelle, ce phénomène entraîne la fermeture du territoire sur le bassin versant de l'Ouvèze, et induit une réduction de la diversité paysagère qui connut son essor dans les années 50. Mots clés : diversité paysagère, déprise agricole, bassin versant, Ouvèze (07).
Fichier principal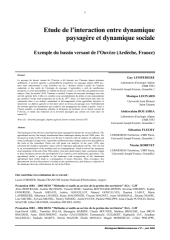 1-lemperiere-et-al.pdf (17.85 Mo)
Télécharger le fichier
Origin : Publisher files allowed on an open archive