Seeing like Big Tech: security assemblages, technology, and the future of state bureaucracy
This chapter looks at post-Snowden contention between US technology companies-firms like Google, Facebook, Microsoft, Apple-and the security field to reflect on the evolution of state arrangements monitoring and controlling communications. Modern statecraft has always depended on measures and metrics that could make the world legible and governable. In the age of Big Data, the infrastructures, data-processing techniques and abstractions produced by large, public-facing technology firms are now seen as the most suited to govern the digitalised world. Through negotiations processes and power struggles involving states, technology companies and other actors, security assemblages tasked with surveillance and censorship evolve towards privatisation and automation, and away from the rule of law. While pointing to the growing influence of Big Data governmentality across the security and wider bureaucratic fields, we conclude by taking stock of the failures of strategies aimed at decoupling the growing sophistication of computing and the intensification of power relations.
Ce chapitre examine l'évolution des rapports entre les entreprises technologiques étasuniennes – notamment Google, Facebook, Microsoft, Apple – et le champ des professionnels de la sécurité aux États-Unis et en France, dans la période qui a suivi les divulgations du lanceur d'alerte Edward Snowden à la mi-2013. Ce faisant, il s'agit notamment d'analyser l'évolution des systèmes étatiques de surveillance et de censure des communications. L'État moderne a depuis longtemps eu recours à des instruments de mesure et des métriques destinées à rendre le monde déchiffrable et gouvernable. À l'ère du Big Data, les infrastructures technologiques, de mêmes que les techniques de traitement de données et les « abstractions » produites par les grandes entreprises technologiques sont considérées comme les plus adaptées au gouvernement des sociétés massivement informatisées. Aussi, à travers des processus de négociation et des luttes de pouvoir impliquant des États, des entreprises technologiques mais également d'autres catégories d'acteurs, les assemblages de sécurité dédiés à la surveillance et à la censure évoluent vers des formes nouvelles de privatisation et d'automatisation, engageant un recul de l'État de droit. Après avoir souligné l'influence croissante de la gouvernementalité algorithmique dans le champ de la sécurité, et plus largement dans l'ensemble du champ bureaucratique, le chapitre évoque en conclusion l'échec des stratégies visant à découpler innovation technologique et intensification des relations de pouvoir.
Fichier principal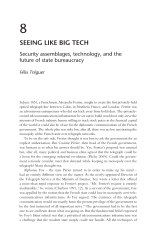 10.4324_9781315167305-8.pdf (140.61 Ko)
Télécharger le fichier
Origin : Publication funded by an institution