Généalogie de la philosophie des lumières : de Nietzsche à la pensée postcoloniale
Postcolonial thinking is a critical epistemology which could be described as radical. It is founded on a colonial civilizing mission, matrix and legacy. Contrary to the misleading prefix "postcolonial", this reflection is not limited the analysis chronological facts subsequent to the colonial period. The reason for postcolonial criticism is a great rationalist narrative, linear and secular issued by the Enlightenment, behind which is a unilateral and linear vision of a historical process that is actually identical and valid for each nation. In spite of its Universalist pretentions, the Enlightenment fails-it seems-to transcend its principles: it tend to be more a tendancy to perceive the world through a occidental lense than a proper philosophy. It's important to note that this particular vision of non-Western countries acts as a benchmark for their political future. Just as for Hegel, non-Western history is reconstructed in line with procedural requirements of reason and concept. However, the historical facts are stranged, fictious, and Hegel may have ignored this aspect; because of its willingness to subsume empirical reality as the idea of a homogenizing concept, in particular that of absolute knowledge. In this light, modernity is less to a valid speech anytime, anywhere than explanatory scheme evading both the historicity of non-European nations, as well as the role of those who are dominated in history, via what we took for epistemic violence.
La pensée postcoloniale est une épistémologie critique – que l'on peut qualifier de radicale – qui provient de la mission civilisatrice du colonialisme, de sa matrice et de son legs. Contrairement à ce que laisse présupposer le préfixe du terme postcolonial, cette réflexion n'est nullement réductible à l'analyse de situations chronologiquement ultérieures au moment colonial. L'objet de la critique postcoloniale est le grand récit rationaliste, linéaire et séculier émis par la philosophie des Lumières, derrière lequel se tient une vision unilatérale et linéaire d'un devenir historique qui serait identique et valable pour chaque nation. Malgré sa prétention universaliste, la philosophie des Lumières ne parvient pas – semble-t-il – à transcender son lieu d'énonciation: elle s'apparente bien plus à une tendance à percevoir le monde à travers la lorgnette européenne, ou occidentale, qu'à une philosophie proprement dite.
O pensamento pós-colonial é uma epistemologia crítica – que podemos qualificar como radical – que provém da missão civilizadora do colonialismo, de sua matriz e de seu legado. Ao contrário daquilo que o prefixo do termo pós-colonial faz supor, esta reflexão não pode ser reduzida apenas à análise de situações cronologicamente posteriores ao momento colonial. O objeto da crítica pós-colonial é a grande narrativa racionalista, linear e secular enunciada pela filosofia iluminista, por trás da qual se encontra uma visão unilateral e linear de um devir histórico que seria idêntico e válido para todas as nações. Apesar de sua pretensão universalista, a filosofia iluminista não consegue – ao que parece – transcender seu lugar de palavra: ela assemelha-se mais a uma tendência de como perceber o mundo através do ponto de vista europeu, ou ocidental, do que a uma filosofia propriamente dita.
Fichier principal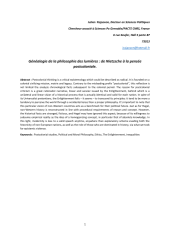 EcceHomo.pdf (675.33 Ko)
Télécharger le fichier
Origin : Files produced by the author(s)