Au-delà des stéréotypes : La culture politique du pétrole et l'État en Afrique
A prolific and non-consensual academic literature makes it difficult to analyse the relationship between oil production, the state and the citizen in Africa. While criticizing the resource curse theory and deconstructing stereotypes on the black gold, this paper thus calls for more field research and monographic studies. Illustrated by a focus on Nigeria, it does not claim to be exhaustive but it shows that most African states have become prime actors of oil production on the continent. Indeed, the political economy of a global word has changed a lot since the nationalization of the oil industry in the 1970s.
Face à une littérature académique extrêmement abondante et peu consensuelle, il n'est pas facile de questionner la relation entre la production pétrolière, l'État et le citoyen en Afrique. Sans prétendre à la moindre exhaustivité, cet article vise ainsi à réhabiliter l'importance des études monographiques, à déconstruire certaines idées reçues et à proposer quelques pistes de recherches qui s'appuient sur l'expérience du Nigeria et sur la critique de la théorie de la malédiction des ressources. Elle invite à considérer la plupart des États africains comme des acteurs matures de la production pétrolière. En effet, les rapports de force ont considérablement évolué et l'économie politique d'un monde global oblige à renouveler les cadres analytiques des théories dépendantistes des années 1970.
Fichier principal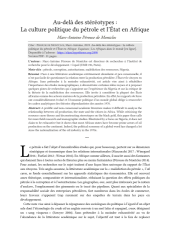 ESQUISSES_2019_05-MA_Perouse_petrole.pdf (736.48 Ko)
Télécharger le fichier
Origin : Files produced by the author(s)