Technology transfer or local invention ? A water collecting system in the northern arabian desert
Water management is essential for survival in marginal environments such as the North Arabian desert. The present study examines strategies of water management near Dûmat al-Jandal, a major oasis at the edge of the Nafud. Through a synthesis of architectural, ceramic and geological data sets, we attempt to reconstruct the purpose and function of a water collecting system recently discovered in the desert margin of the oasis. We then compare this system with those found in other Arabian oases to understand theorigins and influences on the present system. We conclude that the closest comparable strategies of water management can be found in Northwestern Arabia, where Nabataean systems blended with local strategies.
Les aménagements hydrauliques sont essentiels à la survie dans un environnement marginal désertique comme l'Arabie du Nord. Le but de cet article est d'étudier la gestion de l'eau en marge de l'oasis historique de Dûmat al-Jandal, située au nord du Nafûd. Nous nous proposons de reconstituer la fonction d'un système hydraulique de collecte d'eau de pluie récemment découvert, à travers une synthèse architecturale, un court examen de la céramique et en interrogeant les données géologiques du site. Nous comparons également ce système de collecte avec ceux développés dans d'autres oasis d'Arabie afin de comprendre ses origines et ses influences. Il est ainsi possible de conclure que les stratégies hydrauliques les plus proches du système hydraulique à l'étude se trouvent en Arabie du Nord-Ouest, où les Nabatéens surent intégrer des stratégies locales.
Fichier principal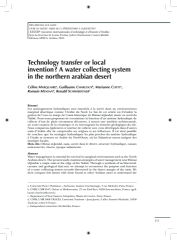 Marquaire et al 2018 COULEUR2.pdf (10.57 Mo)
Télécharger le fichier
Origin : Explicit agreement for this submission