Reforms and revenue mobilization in Africa: Are semi-autonomous revenue authorities (SARAs) effective?
Réformes et mobilisation des recettes en Afrique : les Administrations de recettes semi-autonomes (SARAs) sont-elles efficaces ?
We study effect of semi-autonomous revenue administration reform on tax revenues in sub-Saharan Africa. From a set of data collected on 40 countries between 1980 and 2010, we find a diversified effect on total non-resource tax revenue. In medium term, semi-autonomous revenue authorities don't collect more revenue than traditional administrations and their efficiency diminishes over time. The main conclusion is that semi-autonomous revenue administrations are not a panacea for improving revenue mobilization in Sub-Saharan African countries.
Nous étudions l'effet de la réforme des administrations de recettes semi-autonomes sur les recettes fiscales en Afrique subsaharienne. A partir d'un ensemble de données collectées sur 40 pays entre 1980 et 2010, nous constatons un effet diversifié sur le total des recettes fiscales hors ressources naturelles. A moyen terme, les administrations de recettes semi-autonomes ne mobilisent pas plus de recettes que les administrations traditionnelles et leur efficacité s'amenuise avec le temps. La principale conclusion est que les administrations de recettes semi-autonomes ne sont pas une panacée pour améliorer la mobilisation des recettes dans les pays africains.
Fichier principal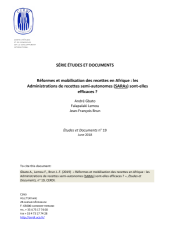 E&D Gbato et al. E&D 2019-19 à publier.pdf (10.33 Mo)
Télécharger le fichier
Origin : Files produced by the author(s)