Les transactions entre la ville et l'inondation pour un urbanisme plus résilient
Transactions between the city and flood : towards a resilient urban design Urban development projects in flood-prone area are presented as configurations-both spatial and actorial-during which transactions between the city and the flood risk are implemented in order to integrate the latter and to achieve a resilient urban design. The cross-cutting study of four urban development projects developed in flood prone built areas in France-the Rives de Maine district in Angers, the Berges de la Robine district in Narbonne, the Eure St-Nicolas district in Le Havre and the Matra district in Romorantin-highlights the broad categories of transactions necessary for a resilient urban design. We first identify three different kinds of generic spaces allowing transactions between the city and flood : raised spaces, hydraulic transparencies, landscape design of the city/water interface. We then show that the taking into account of flooding in an urban development project is related to the ability of stakeholders to articulate the technical and sensitive registers, as well as a regulatory logic and a project logic. The aim is to make possible the confrontation of the stakeholders and the invention of solutions to organize space which are the result of inventive negotiations.
Les projets d'aménagement urbain en zone inondable se présentent comme des configurations-à la fois spatiales et actorielles-lors desquelles sont mises en oeuvre des transactions entre la ville et l'eau afin d'intégrer le risque d'inondation et aboutir à une forme d'urbanisme résilient. L'étude transversale de quatre projets d'aménagement urbain développés en zone inondable constructible en France-le quartier Rives de Maine à Angers, le quartier Berges de la Robine à Narbonne, le quartier de l'Eure St-Nicolas au Havre et le quartier Matra à Romorantin-permet de faire ressortir les grandes catégories de transactions nécessaires à un urbanisme résilient. Nous identifions tout d'abord trois grands types d'espaces génériques de transaction ville/risque d'inondation, qui sont des solutions d'organisation de l'espace adaptées au risque d'inondation et constituent donc des réponses à l'enjeu de l'urbanisation résiliente des zones inondables : les espaces surélevés, les transparences hydrauliques, l'aménagement paysager de l'interface ville/eau. Nous montrons ensuite que la prise en compte de l'inondation dans un projet d'aménagement urbain tient à la capacité des acteurs du projet à articuler registre technique et registre sensible, mais aussi à leur capacité à articuler logique réglementaire et logique de projet. Il s'agit de rendre possible la confrontation des différents acteurs et l'invention de solutions d'organisation de l'espace qui soient le résultat de négociations inventives.
Fichier principal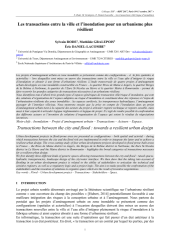 Texte_RODE_HouilleBlanche_VF.pdf (3.69 Mo)
Télécharger le fichier
Origin : Files produced by the author(s)