L'énergie et les fonctions de production agrégées : perspectives historique et méthodologique
From a historical and methodological perspective, this paper focuses on empirical work on energy based on the aggregate production function, from the early 1970s to the late 2000s. It starts with the standard neoclassical approach, and in particular the controversy over the substitutability between capital and energy. Then it tackles the thermodynamic approach, which focuses on the explanation of the long-term growth. It shows continuity in the methodological issues raised by this work. At the theoretical level, the aggregate production function offers little conceptual insight into the physical aspects of the production process. At the empirical level, the results of estimates of energy production functions raise questions. In the neoclassical framework, the estimation is done indirectly through the cost function, so that the result is overdetermined by the marginal productivity pricing assumption. The thermodynamic approach proceeds in the opposite direction to a direct estimate, which encounters statistical problems no less important. If these difficulties relate more generally to the aggregate production function, energy issues reveal them in a very striking way.
Dans une perspective historique et méthodologique, cet article s'intéresse aux travaux empiriques sur l'énergie qui reposent sur la fonction de production agrégée du début des années 1970 à la fin des années 2000. Il traite dans un premier temps de l'approche néoclassique standard, et en particulier de la controverse sur la substituabilité entre le capital et l'énergie. Puis il aborde l'approche thermodynamique, davantage tournée vers l'explication de la croissance à long terme. Il montre une continuité dans les enjeux méthodologiques soulevés par ces travaux. Au niveau théorique, la fonction de production agrégée offre peu de prise conceptuelle pour rendre compte des aspects physiques du processus de production. Au niveau empirique, les résultats des estimations de fonctions de production avec énergie soulèvent des interrogations. Dans le cadre néoclassique, l'estimation est réalisée de manière indirecte via la fonction de coût, de sorte que le résultat est surdéterminé par l'hypothèse de rémunération à la productivité marginale. L'approche thermodynamique procède à l'inverse à une estimation directe, qui rencontre des problèmes statistiques non moins importants. Si ces difficultés concernent de manière plus générale la fonction de production agrégée, la question de l'énergie les révèle de façon très frappante.
Fichier principal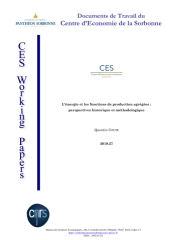 19027.pdf (869.98 Ko)
Télécharger le fichier
Origin : Files produced by the author(s)