« Ma thèse en 180 secondes » : de nouvelles voix en science ?
What do doctoral students do when they speak in " Three minute thesis "? Are they talking about science, research, themselves? What do they share and what do they build in the popularization situation offered to them? Does the existence of these individual, situated and public places of expression give rise to different ways of writing science and speaking science? Is the utilization of "I" enough to speak from one's own perspective and with one's own voice? Between orality and writing, I am interested in the tension between enunciation in the first person and erasure of the subject, between subjectivity and reflexivity, between commitment and neutrality. In terms of reflexivity, I am questioning situations, and more broadly what oral and written communication does to our ways of thinking, of knowing and of criticizing.
Que font les doctorant·es quand elles et ils parlent dans le dispositif « Ma thèse en 180 secondes » ? Parlent-iels de science, de recherche, d'eux-mêmes ? Que partagent-iels et que construisent-iels dans les dispositifs de médiation qui leur sont proposés ? L'existence de ces lieux d'expression individuelle, situés et publics, fait-elle émerger des manières différentes d'écrire la science et de parler la science ? Parler « à la première personne » suffit-il à parler depuis sa propre perspective et avec sa propre voix ? Entre oralité et écriture, je m'intéresse donc à la tension entre énonciation à la première personne et effacement du sujet, entre subjectivité et réflexivité, entre engagement et neutralité. En termes de réflexivités, je croise un questionnement sur les situations et les dispositifs, mais plus largement sur ce que font l'oralité et l'écriture à la pensée, à nos manières de connaître et à la critique.
Fichier principal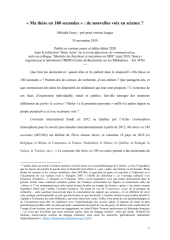 191129_De nouvelles voix en science_PrePrintvLongue_v2.pdf (1.17 Mo)
Télécharger le fichier
Origin : Files produced by the author(s)