Qu'est-ce que l'analyse juridique de (x) ? Pour une explicitation
The challenge of a "legal analysis of (x)" entails a theoretical and methodological claim. This formula expresses the idea that legal analysis may focus on any element, referred to as x. The objects that may be subjected to legal analysis are therefore not limited to the rules of law and their implementation by the courts. Like other social sciences, legal sciences can focus their analyses on the most diverse objects, based on their own conceptualizations. Legal analysis thus sheds its own light to objects that it shares with other social sciences.
Le défi d'une « analyse juridique de (x) » renferme une proposition théorique et méthodologique qu'il convient d'expliciter. Cette formule exprime l'idée que l'analyse juridique peut porter sur un quelconque élément, dénommé x. Les objets susceptibles d'être saisis par l'analyse juridique ne sont donc pas cantonnés aux règles de droit et à leur mise en œuvre par les tribunaux. Comme les autres sciences sociales, les sciences juridiques peuvent porter leurs analyses sur les objets les plus divers, à partir des conceptualisations qui leur sont propres. L'analyse juridique contribue ainsi à fournir sa part d'intelligibilité à des objets qu'elle a en partage avec les autres sciences sociales.
Fichier principal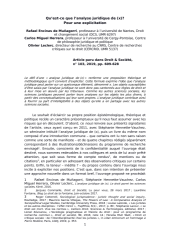 Munagorri, Herrera, Leclerc 2019_Qu'est-ce que l'analyse juridique de x_HAL.pdf (143.5 Ko)
Télécharger le fichier
Origin : Files produced by the author(s)