Beyond the clatter of the important court decisions. Distrust, criticism and fear of the use of justice in prison
Par-delà le fracas des grands arrêts. Défiance, critique et crainte des recours à la justice en prison
Per una sociologia morale delle traiettorie di controllo. Una lettura de La société punitive
The juxtaposition of prison-related court decisons, which have been widely echoed in the legal literature, can sometimes give the impression that life in detention is becoming increasingly legalized. The approach favoured here is not to start from court decisions but from daily prison life. If justice has indeed passed through the doors of prisons. If prisons are no longer "lawless zones", according to an expression that was still a truism not long ago, what right do they have? Based on an ethnographic survey conducted over several months in two prisons, this article attempts to understand how prisoners take advantage of, ignore or abandon the remedies now available to them. It sketches a reverse of the doctrinal analyses of prison litigation. From this point of view, it is more through the distant specter of small procedures than through the clatter of large rulings that justice passes through the doors of prisons. Nevertheless, it is distorted, often reduced to a formalism that gives pride of place to the management constraints of the administration and gives the establishments considerable discretionary power.
En matière pénitentiaire, la juxtaposition de jurisprudences dont la doctrine s'est largement faite l'écho peut parfois donner l'impression d'une légalisation croissante de la vie en détention. L'approche privilégiée ici consiste à ne plus partir des décisions de justice mais du quotidien carcéral. Si la justice a bien franchi les portes des prisons. Si les prisons ne sont plus des « zones de non-droit », selon une expression qui paraissait encore un truisme il y a peu, de quel droit sont-elles le lieu ? S'appuyant sur une enquête ethnographique de plusieurs mois dans deux établissements pénitentiaires, l'article s'attache à comprendre comment les personnes détenues se saisissent, ignorent ou délaissent les recours qui leur sont désormais ouverts. Il esquisse un envers des analyses doctrinales du contentieux pénitentiaire. A ce prisme, c'est davantage par le spectre lointain de petites procédures que par le fracas des grands arrêts que la justice franchit les portes des prisons. Elle s'y trouve néanmoins déformée, souvent réduite à un formalisme qui fait la part belle aux contraintes de gestion de l'administration et ménage aux établissements un important pouvoir discrétionnaire.
Per le scienze sociali, la lettura di Michel Foucault è stata – e resta – un vettore importante d'innovazione teorica e metodologica. La société punitive, nuova opera del lavoro di edizione delle sue prese di parola e di scrittura, rinnova l'invito all'immaginazione sociologica. Pronunciato al Collège de France nel 1973, il Corso non ha certo la novità delle lezioni successive alla pubblicazione di Sorvegliare e punire. Tuttavia propone, al sociologo della penalità, alcune piste originali per la definizione di oggetti e di metodologia di ricerca.
Fichier principal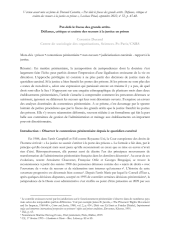 Durand - 2022 - Par-delà le fracas des grands arrêts - Pour dépôt.pdf (186.43 Ko)
Télécharger le fichier
Origin : Files produced by the author(s)