The Relevance of the Use of Ethnoarchaeological Comparisons for the Study of Ancient Architectural Structures: The Case of Brick Manufacturing in Sudan during the Meroitic Period
De la pertinence de l'utilisation de comparatifs ethnoarchéologiques pour l'étude des structures architecturales antiques : Exemple de la confection des briques au Soudan à l'époque méroïtique
In order to overcome the deficiencies of archaeological documentation, which by nature is limited, the use of ethnographic data can help interpret the archaeological record. Comparative analysis of archaeological cases is common in the Middle East and in Europe, but is relatively rare in the Middle Nile Valley. This article aims to question whether the use of ethnographic observations is appropriate in the case of brick manufacturing, given that bricks have been widely used for millennia. Their manufacturing process in present-day Sudan will be compared to what is known of it in Sudan during the Meroitic period (3rd century BC – 4th century AD). An investigation conducted in 2018 in two traditional brickyards of the Sudanese Nile Valley, through the observation of the brick makers' practices, resulted in a set of ethnographic data that shed new light on the archaeological remains. After giving a brief history of the introduction of bricks in the Middle Nile Valley and its uses since Antiquity, this study will present the method of data collection employed. It will then focus on the modern brick manufacturing process. The principle of ethnoarchaeology – according to which ethnographic material assists in the interpretation of archaeological contexts – and its limitations will be recalled, before outlining the essential prerequisites for ethnoarchaeological analogy, that is, cultural continuity and similarities in terms of geographical and socio-economic features between the two groups under review. However, one must bear in mind that these conditions are now being called into question by the rapid changes in the lifestyle of the so-called traditional societies. Finally, the discussion will focus on the information brought by the examination of modern bricks to the understanding of the conditions of production of ancient bricks. Indeed, the study of ancient bricks makes it possible to define/document the method used for their manufacture, as well as their composition. It also gives valuable information on the character of production (either domestic or mass production), the seasonal nature of brickwork, the use of reclaimed materials or the identity of people assigned to brick manufacturing. In addition, it offers the possibility of investigating yields, investment in time and effort and the more or less specialization required. Finally, careful observation of bricks makes it possible to detect, at least to some extent, the transfer of skills and craftsmen and the supply and management of ancient construction sites. To conclude, this article aims to move ethnoarchaeology toward a better understanding of the relationships between manufacturing techniques and their context of production. Ethnoarchaeological observations should play a more substantial role in the study of past technical behaviours, particularly within the study of know-how.
Pour pallier les carences de la documentation archéologique, par nature limitée, l'usage de données issues de l'ethnographie peut permettre de donner du sens à des vestiges anciens. Courante au Proche-Orient et en Europe, cette démarche reste rare dans la vallée du Nil moyen. Cet article vise à interroger le bien-fondé du recours à l'observation ethnographique dans le cas de la fabrication des briques de terre – massivement utilisées depuis des millénaires –, en mettant en parallèle cette activité dans le Soudan d'aujourd'hui avec ce que nous savons de celle-ci au Soudan à l'époque méroïtique (iiie siècle avant J.-C. – ive siècle après J.-C.). Une enquête menée en 2018 dans deux briqueteries traditionnelles de la vallée du Nil soudanaise a permis de produire, par l'observation des pratiques des artisans, un ensemble de données ethnographiques qui éclairent d'un jour nouveau les vestiges archéologiques. Après avoir retracé l'introduction de la brique et ses utilisations dans la vallée du Nil moyen depuis l'Antiquité puis présenté la méthode de collecte des données mise en œuvre dans le cadre de cette étude, on s'intéressera à la chaîne opératoire de fabrication des briques modernes. On rappellera ensuite le principe de l'ethnoarchéologie – selon lequel le travail ethnographique vient en aide à l'interprétation de situations archéologiques – et ses faiblesses, avant d'exposer les prérequis nécessaires à l'analogie ethnoarchéologique, que sont la convergence culturelle et des conditions géographiques et socio-économiques proches entre les deux groupes considérés, tout en gardant à l'esprit que ces conditions sont aujourd'hui remises en question par les transformations rapides des modes de vie des sociétés dites traditionnelles. Enfin, la discussion portera sur les informations apportées par l'examen des briques modernes à la compréhension des conditions de production des briques anciennes. L'étude de ces dernières permet en effet de connaître les méthodes utilisées pour leur fabrication ou leur composition mais également le caractère des productions (domestique ou de masse), la saisonnalité des travaux, la réutilisation de matériaux de récupération ou la nature des groupes humains affectés à cette tâche. Elle offre en outre la possibilité d'évaluer des rendements et donc l'investissement en temps et en force de travail, la spécialisation plus ou moins accrue requise par certains savoir-faire. Elle permet enfin d'appréhender, au moins en partie, la circulation des savoirs et des artisans, l'approvisionnement et la gestion des chantiers de construction antiques. Pour conclure, cet article souhaite proposer une place à la discipline ethno­archéologique dans l'étude des relations entre les techniques de fabrication et leur contexte de production. L'observation de pratiques actuelles ou subactuelles appliquées à l'étude des choix techniques passés a vocation à se développer, notamment au sein de l'étude des savoir-faire.
Buscando compensar as deficiências da documentação arqueológica, naturalmente limitada, o uso de dados provenientes da etnografia pode ajudar a compreender os remanescentes de antigas civilizações. Frequente no Oriente Próximo e na Europa, essa abordagem continua sendo rara no Vale do Médio Nilo. Este artigo tem como objetivo questionar os méritos da utilização da observação etnográfica no caso da fabricação de tijolos de terra - há milênios utilizados maciçamente - comparando esta atividade no Sudão de hoje com o que conhecemos dela no Sudão do Período Meroítico (séc. III a.C. - séc. IV d.C.). Um levantamento realizado em 2018, em duas fábricas tradicionais de tijolos no Vale do Nilo no Sudão, produziu, observando as práticas dos artesãos, um conjunto de dados etnográficos que traz novos olhares aos vestígios arqueológicos. Depois de reconstituir a introdução do tijolo e dos seus usos desde a antiguidade no Vale do Médio Nilo, e apresentar o método implementado na coleta dos dados, o estudo centrar-se-á na cadeia operatória relativa à fabricação dos tijolos modernos. Serão lembrados o princípio da etnoarqueologia – segundo qual o trabalho etnográfico auxilia na interpretação de situações arqueológicas – bem como suas limitações, antes de se apresentar os pré-requisitos necessários à analogia etnoarqueológica, que são a convergência cultural e as condições geográficas e socioeconômicas similares entre os dois grupos considerados. Tem-se em mente que essas condições hoje são questionadas devido às rápidas transformações dos modos de vida das chamadas sociedades tradicionais. Finalmente, a discussão centrar-se-á nas informações trazidas pela análise dos tijolos modernos visando compreender as condições de produção dos tijolos antigos. O estudo da produção permite conhecer os métodos utilizados na fabricação ou na composição, mas também o tipo de produções (domésticas ou em larga escala), a sazonalidade dos trabalhos, a reutilização de materiais reciclados ou a natureza dos grupos humanos relacionados a essa atividade. Além disso, oferece a possibilidade de avaliar a produtividade e, portanto, o investimento em tempo e mão de obra e a especialização mais ou menos significativa exigida para determinadas competências (o saber-fazer). Por último, permite entender, ao menos em parte, a circulação dos saberes e dos artesãos, o abastecimento e o gerenciamento dos canteiros de obras da antiguidade. Para concluir, este artigo deseja propor um espaço para a disciplina etnoarqueológica no estudo das relações entre as técnicas de fabricação e o seu contexto de produção. A observação de práticas atuais ou subatuais aplicadas ao estudo de escolhas técnicas passadas tem vocação a desenvolver-se, particularmente no estudo do saber-fazer.
Fichier principal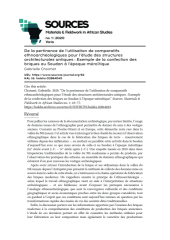 01_03_SOURCES_Gabrielle-Choimet.pdf (5.17 Mo)
Télécharger le fichier
Origin : Publisher files allowed on an open archive