Les conditions de travail : un marqueur des inégalités entre groupes socioprofessionnels en Europe
Working conditions and the organization of work in companies appear to be important dimensions of inequalities in Europe. To what extent does membership of the same socio-professional group or national space correspond to a common experience of forms of work organization? This article proposes to answer this question by drawing on the European Working Conditions Survey of 2015. The analysis focuses on two dimensions of working conditions: declared physical risks and strenuousness and the organization of working time. In the first part, we show that strenuousness at work is an experience shared and declared by members of all subordinate professions in Europe, regardless of national differences. The second part returns to a more specific feature of the work experience of the privileged classes: the ability to arrange the organization of one's work. The very high degree of autonomy of executives in Northern and Western Europe differs from the constraints faced by both subordinate workers and executives in Eastern Europe.
L'organisation du travail dans les entreprises et les conditions de travail apparaissent comme des dimensions importantes des inégalités européennes. Dans quelle mesure l'appartenance à un même groupe socio-professionnel ou à un même espace national correspond-elle à une expérience commune des formes d'organisation du travail ? L'article propose de répondre à cette question en s'appuyant sur l'exploitation de l'European Working Condition Survey de 2015. L'analyse se focalise sur deux dimensions des conditions de travail : les pénibilités et les risques physiques déclarés et l'organisation du temps de travail. Dans une première partie, nous montrons que la pénibilité au travail est une expérience partagée et déclarée par l'ensemble des membres des professions subalternes en Europe, par-delà les différences nationales. La seconde partie revient sur un trait plus particulier de l'expérience au travail des classes supérieures : la capacité à pouvoir aménager l'organisation de son travail. La très forte autonomie des cadres des pays du Nord et de l'Ouest se distingue des contraintes qui pèsent sur les travailleurs subalternes mais également des cadres des pays de l'Est.
Fichier principal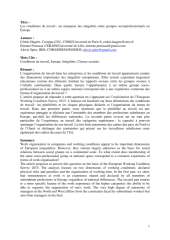 Hugree_Penissat_Spire_RESS_16092019.pdf (967.46 Ko)
Télécharger le fichier
Origin : Files produced by the author(s)