Esperanto and the Second World War: a post-memory approach to transnational narratives
Esperanto kaj la Dua Mondmilito: postmemora aliro al transnaciaj rakontoj
The Second World War hit the Esperanto movement abruptly: in Europe and Asia persecution of its members was introduced by the totalitarian regimes which appeared or established themselves in the course of the 1930s. But the war also broke out at a time of poor organisation of the movement: in 1936 the neutral movement split into UEA and IEL. Likewise in the workers' movement Stalinists had provoked a schism within SAT and in 1932 had founded IPE. Activities during the war were greatly reduced and documentary traces are rare. The post-war rebirth was thus strongly marked by the recent experience of the war. In the second half of the 20th century a significant part of Esperanto writing either deals directly with the war or is strongly influenced by its consequences. The corpus is extensive and contains novels, short stories, poems, autobiography and other forms of writing such as one opera libretto. Few of these texts are known outside the Esperanto community, except Maskerado ĉirkaŭ la morto, the life story of Tivadar Soros (which appeared in 1965). Because it has been translated into several languages it is now part of the source material for researchers into the Shoah. But the corpus is extremely rich and deals with very diverse topics concerning almost every part of the world: the evacuation of children in London in 1939 in the novel Londonanidoj written by an adolescent Donald Munns (1946), the Japanese prisoners in US camps in Naskitaj sur la ruino by Miyamoto Masao (1976), the destiny of Scottish families between the First and Second World Wars in La granda kaldrono (1978) by John Francis, the experience of the Shoah in the poems by Julius Balbin. Even the epic masterpiece by William Auld, La infana raso (1955), can be read as a post-Hiroshima poem. The growth of totalitarian politics and the following war still interest today's writers, as is shown by the novels of Mikael Bronŝtejn and Trevor Steele. From these fictional accounts, based on historical facts, one can understand how the Esperanto community has built its memory of this period: which events it is more inclined to deal with, but also which it is more inclined to forget. 53 The post-memory approach engages with just that: what view of the world does a work convey to its readers? It does not aim to discuss literary quality, but rather the historical content. National literature on the world war is strongly marked by the national experience, because inevitably the wartime experience is very different for different countries. Even some languages are not just culturally but politically marked by the war. Some war stories are international and create a bridge between two language territories, especially with migrants who take on the language of the host country. But the Esperanto contribution presents the unique quality of a post-national discourse, at the same time both rooted in the national experience and looking at the world from another point of view. The post-memory approach strives to capture and identify the specificity of the Esperanto war narrative beyond national conditions and imperialist world views.
Prof. D-ro. Pascal Dubourg Glatigny estas esplorprofesoro ĉe CNRS (franca nacia esplorcentro) kaj disvolvas sian aktivecon kadre de Centre Alexandre Koyré (Parizo, EHESS). Li doktoriĝis en 1999 kaj habilitiĝis en 2014. Li kunordigas esplorojn rilate al Esperanto kaj la dua mondmilito kaj ini-ciatis la retejon mondmilito.hypotheses.org, kie regule aperas kontribuoj kaj novaĵoj de la internacia esplorgrupo. Resumo: Esperanto kaj la Dua Mondmilito: postmemora aliro al transnaciaj rakontoj La dua mondmilito abrupte batis la Esperanto-movadon: en Eŭropo kaj Azio, persekutoj kontraŭ la movadanoj estis starigitaj de la totalismaj reĝimoj kiuj aperis aŭ enradikiĝis laŭlonge de la 1930-aj jaroj. Sed ankaŭ la milito eksplodis en momento de movada malforta organizado: en 1936 la neŭtrala movado dividiĝis inter UEA kaj IEL. Same en la laborista movado la stalinistoj estis provokintaj skismon ene de SAT kaj en 1932 fondis IPE. La agado dummilita reduktiĝis forte kaj la dokumentaj spuroj estas maloftaj. La postmilita renaskiĝo estis konsekvence forte markita de la ĵus pasinta milita sperto. En la dua duono de la 20-a jarcento, signifa parto de la Esperanto-verkaĵoj kaj beletro, ĉu pritraktas rekte la militon ĉu estas forte influita de ĝiaj konsekvencoj. La korpuso estas ampleksa kaj entenas romanojn, novelojn, poemojn, memrakontojn kaj aliajn formojn de verkaĵoj kiel unu opero-libreto. Malmultaj el tiuj tekstoj estas konataj ekster la Esperanto-komunumo, escepte de Maskerado ĉirkaŭ la morto, la vivrakonto de Tivadar Soros (aperinta en 1965). Ĉar ĝi estis tradukita en diversajn lingvojn tial ĝi apartenas nun al la fontaro de esploristoj pri la Ŝoaho. Sed la tekstaro estas ege riĉa kaj pritraktas tre diversajn temojn, kiuj rigardas preskaŭ ĉiujn mondopartojn: pri la evakuado de infanoj en Londono en 1939 en la romano Londonanidoj, verkita de la adoleskulo Donald Munns (1946), pri la japanaj prizonuloj en usonaj postmilitaj kampoj en Naskitaj sur la ruino de Miyamoto Masao (1976), pri la destino de skotaj familioj inter la unua kaj la dua mondmilitoj en la Granda Kaldrono (1978) de John Francis, pri la sperto de la Ŝoaho en la poemaroj de Julius Balbin. Eĉ la ĉefverka epopeo de William Auld La Infana raso (1955) povas esti legata kiel post-hiroŝima poemo. La kresko de totalismaj IKU 4
La Seconde guerre mondiale s'est abattue avec violence sur le mouvement espérantiste: en Europe et en Asie, les militants firent l'objet de persécutions mises en oeuvre par les régimes totalitaires qui apparurent et se renforcèrent au cours des années 1930. Mais la guerre explosa également dans un moment de faiblesse de leurs organisations: en 1936, le mouvement neutre s'était divisé entre l' UEA (Genève) et l'Internacia Esperanto-Ligo (Londres). Au sein du mouvement ouvrier, on observait le même phénomène: les staliniens avaient provoqué une scission au sein de SAT qui se traduisit par la fondation de l'Internacio de Proleta Esperantistaro, proche de la Troisième internationale. En conséquence, l'activité fut considérablement réduite pendant la guerre et les traces documentaires sont peu fréquentes. La renaissance que connut le mouvement après-guerre fut ainsi fortement marquée par l'expérience de la guerre récente. Dans la seconde moitié du 20e siècle, une partie significative des écrits en espéranto et de sa littérature est fortement influencée par les conséquences de la guerre ou affronte directement ce thème. Le corpus est large et comprend des romans, des nouvelles, des poèmes, des autobiographies et d'autres formes d'écrits comme par exemple un livret d'opéra. Peu de ces textes sont connus en dehors de la communauté espérantiste, à l'exception de Mascarade autour de la mort, le récit autobiographique de Tivadar Soros (1965). Après avoir été traduit en plusieurs langues, il appartient désormais aux sources des historiens de la Shoah. Mais l'ensemble des textes est particulièrement riche, traite une grande diversité de thèmes et concerne presque toutes les parties du monde: le roman Londonanidoj (1946), écrit par l'adolescent Donald Munns, relate les évacuations d'enfants de Londres en 1939, Naskitaj sur la ruino (1976) de Miyamoto Masao sur les prisonniers japonais dans les camps américains d'après-guerre et la désillusion qui suivit la libération, La Granda Kaldrono (1978) de John Francis sur le destin de familles écossaises entre Première et Seconde Guerres mondiales, les recueils de poèmes de Julius Balbin sur la déportation et les camps d'extermination... Même le chef d'oeuvre de la littérature en espéranto, La Infana Raso (1955) de William Auld, peut-être lu comme un poème post-Hiroshima. L'expansion des politiques totalitaires et la guerre qui s'ensuivit continuent à intéresser les écrivains 54 contemporains comme le montrent les romans du Russe Mickael Bronstein ou de l'Australien Trevor Steele. A la lecture de ces récits de fiction basés sur des faits historiques on saisit comment la communauté espérantiste construit sa propre mémoire de cette période: quels événements elle privilégie mais aussi ceux qu'elle préfère oublier. L'approche post-mémorielle s'occupe précisément de ce champ: quelle vision du monde ces écrits transmettent-ils à leurs lecteurs? Elle ne discute pas la qualité littéraire mais le contenu historique. La littérature dans les autres langues est fortement marquée par l'expérience nationale de la guerre, par définition très variable selon les pays. A l'issue de la guerre, de nombreuses langues ne sont plus seulement liées à une culture mais également politiquement connotées. Certains récits de guerre sont transnationaux dans le sens où ils construisent un pont entre deux sphères linguistiques, en particulier dans l'oeuvre d'émigrés qui ont adopté la langue du pays d'accueil. Mais la contribution en espéranto présente la caractéristique unique d'un discours post-national, simultanément enraciné dans l'expérience des différents pays mais regardant le monde depuis une autre perspective. L'approche post-mémorielle vise à saisir et à qualifier la spécificité du récit de guerre en espéranto au delà des conditions nationales et des visions impérialistes.
Fichier principal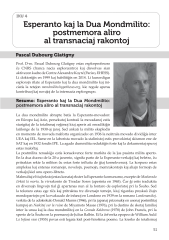 iku_libro_2020.pdf (2.02 Mo)
Télécharger le fichier
Origin : Publisher files allowed on an open archive