Health crisis. Work crisis. An opportunity amidst the chaos?
Crisis sanitaria y crisis del trabajo: ¿una oportunidad en el caos?
The present context of health crisis and unprecedented lockdown is an opportunity for thinking, position-taking, indignation and controversy. As a social activity, work redefines itself every day, according to circumstances. Work specialists, ergonomists included, observe and reflect. Contrary to certain preconceived ideas, Ergonomics is not primarily about so-called "ergonomic" chairs, desks or toothbrushes. Work is a central object of ergonomics, and the technical resources associated with it cover only some of the questions it raises. The ergonomic project consists of perceiving this Work; and above and beyond the technical resources, it is the values, skills, relationships, organizations, etc. that are its pivotal components, as is its inclusion in society, and therefore in the lives of each and every one of us.
En un contexto excepcional de confinamiento que ha llevado a un cambio en la vida personal y profesional de todos, la SELF inició la redacción de un texto, cuyo objetivo es contribuir a reflexiones y debates dentro de la comunidad de ergónomos y ergónomas, y en general de la sociedad. Contrariamente a ciertas ideas preconcebidas, la ergonomía no consiste principalmente en el diseño de sillas, escritorios o cepillos de dientes "ergonómicos". El trabajo es un objeto central de la ergonomía, y los recursos técnicos asociados con él cubren solo algunas de las preguntas que éste plantea. El proyecto ergonómico consiste en percibir este Trabajo más allá de los aspectos técnicos: los valores, habilidades, relaciones, organizaciones, etc. que son sus componentes fundamentales, como lo es su inclusión en la sociedad y, por lo tanto, en la vida de todos y cada uno de nosotros.
Fichier principal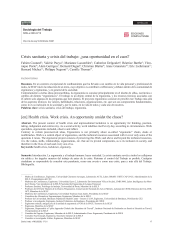 crisis-sanitaria-y-crisis-del-trabajo.pdf (334.83 Ko)
Télécharger le fichier
Origin : Files produced by the author(s)