« Boccace en Angleterre : la Fall of Princes de John Lydgate (1421-1428) »
John Lydgate made use of Laurent de Premierfait's translation of Boccaccio's De casibus virorum illustrium to write The Fall of Princes. By highlighting each author's particular concerns, this article shows that Lydgate contributed to creating an English vernacular culture.
La Fall of Princes du moine bénédictin anglais John Lydgate est une traduction-adaptation du célèbre De casibus virorum illustrium de Boccace (troisième quart du XIVe siècle). Très diffusé en Angleterre – environ 35 manuscrits sont conservés, sans compter les fragments et les extraits – ce texte est le plus long poème anglais de la période (plus de 36000 vers !) et son influence reste importante jusqu'à la fin du XVIe siècle au moins. Si ce texte atteste de la réception de Boccace en Angleterre, il permet de soulever un certain nombre de points intéressants concernant les problèmes d'identité textuelle à la fin du Moyen Âge. Car Lydgate n'a pas traduit le De casibus directement : il est passé par l'intermédiaire de la traduction française réalisée par Laurent de Premierfait au début du XVe siècle. La comparaison des trois versions permet donc de cerner les transformations d'un texte dans le temps et dans l'espace. De fait, la Fall of Princes a acquis une dimension propre. Dans le contexte politique de la première moitié du XVe siècle, marqué par l'installation d'une nouvelle dynastie, par la minorité d'un roi enfant, par la guerre avec la France et par la lutte contre la seule hérésie anglaise de la période, Lydgate, lié aux élites politiques anglaises et écrivant pour elles, entend bien affirmer l'existence d'une culture anglaise spécifique et orthodoxe, mais aussi ouverte, grâce au processus de la translatio poétique.
Fichier principal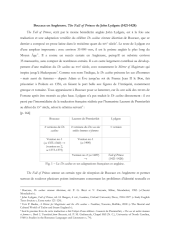 Mairey - Boccace en Angleterre.pdf (273.83 Ko)
Télécharger le fichier
Origin : Files produced by the author(s)