Old Sundanese inscriptions: Renewing the philological approach
Old Sundanese inscriptions had already been studied by the end of the 19th century by the Dutch scholars, and post-Independence Indonesian scholars have continued to make occasional contributions. However, the epigraphic corpus still leaves many problems without a compelling solution, while the available editions are of uneven quality. This article's objective is to present new editions of fifteen Old Sundanese inscriptions, based on direct reading from the original artefacts and on newly made photos and estampages, and to interpret the contents of these inscriptions by renewing the philological approach, pioneered by some Dutch scholars in the 19th century, of making systematic use of Old Sundanese sources preserved in manuscripts, in order to elucidate the meaning of the inscriptions. Our study shows that the inscriptions are related to the social and political contexts of the Sunda region from the late 15th into the 16th century, and that they are predominantly commemorative in nature rather than being records of contemporary events.
À la fin du XIXe siècle, les inscriptions en vieux soundanais avaient déjà été étudiées par les savants néerlandais, et les chercheurs indonésiens ont continué à apporter d'occasionnelles contributions à ce domaine après l'Indépendance. Néanmoins, l'étude de ce corpus épigraphique comporte de nombreux problèmes qui n'ont à ce jour pas trouvé de solution satisfaisante. Les éditions disponibles, de plus, demeurent de qualité inégale. L'objectif de cet article est de présenter de nouvelles éditions de quinze inscriptions en vieux soundanais à partir de lectures réalisées à même la pierre, et à partir de nouveaux jeux d'estampages et de photographies récentes. Nous offrons une interprétation de ces inscriptions en renouvelant l'approche philologique consistant à faire un usage systématique des sources vieux-soundanaises préservées dans les manuscrits afin d'éclairer le sens des sources épigraphiques, méthode élaborée par les pionniers néerlandais au XIXe siècle. Notre étude révèle que les inscriptions sont ancrées dans le contexte social et politique de la région soundanaise de la fin du XVe et du XVIe siècle, et qu'elles semblent principalement avoir une dimension commémorative, davantage qu'une vocation à relater des évènements contemporains.
Fichier principal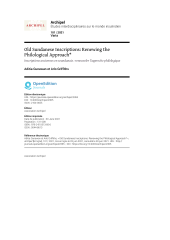 Aditia Gunawan & Griffiths 2021 Old Sundanese Inscriptions.pdf (3.06 Mo)
Télécharger le fichier
Origin : Publisher files allowed on an open archive