Situation présente du constitutionnalisme. Quelques réflexions sur l'idée de démocratie par le droit
The present Situation of Constitutionalism. Some Thoughts about the Idea of Democracy by LawConstitutionalism is, more often than not, equated with a notion of "achieving democracy through the law". This entails the notion that, in a democracy, the law is expected to ensure the development of fundamental rights. The purpose of the article is to analyse the shift thus involved in the concept of democracy, as well as the high expectations law has to meet in order to achieve these goals. It is suggested that this involves a collapse of "constitutionalism" into "constitutional law". Several important aspects of constitutionalism, such as the separation of powers or the existence of a hierarchy of norms, are transformed into technical words of art which courts use as if they were neutral and uncontroversial.
Le constitutionnalisme est aujourd'hui identifié, à tort ou à raison, à l'idée d'une « démocratie par le droit », laquelle recouvre souvent un projet d'accomplissement des droits fondamentaux par des moyens juridiques. L'article analyse le déplacement que cela implique du point de vue du sens du mot « démocratie », mais aussi l'effet de survalorisation du droit qui en résulte. Ce phénomène de sacralisation du droit explique aussi comment on en est venu à confondre constitutionnalisme et droit constitutionnel. Plusieurs idées centrales du premier sont devenues, dans le second, des techniques dont on présume le caractère non problématique et la neutralité. Cela est démontré par une étude de l'évolution récente des notions de séparation des pouvoirs et de hiérarchie des normes, notamment dans la jurisprudence du Conseil constitutionnel.
Fichier principal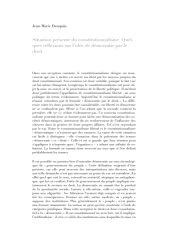 JP.Denquin.6.pdf (201.01 Ko)
Télécharger le fichier
Origin : Files produced by the author(s)