Confiance en l'intelligence artificielle et autorité des machines
This contribution has two objectives. On the one hand, it considers the study of trust relationships towards the "non-human agents" that are the contemporary technological tools (algorithms and data that define artificial intelligence); on the other hand, it undertakes to conceptualize the authority that these tools are acquiring. The starting point is that the contemporary deployment of AI relies on forms of trust in machines shared between their designers and users, who appear to be the "cement" of the uses that guarantee the efficiency of the machines. However, this trust is less directed towards tools considered as neutral than towards personalized or even personified entities. Artificial intelligences, analyzed in the context of their uses, are already presented as something other than neutral instruments. Although still poorly qualified ontologically, they are already no longer simple tools, but agents. Through the services they render and the influence they already exert on behaviors, they acquire a real action that needs to be documented and conceptualized. This approach in political philosophy wants to examine the form of authority thus generated, notably by imagining experimental devices to test the hypotheses.
Cette contribution se donne deux objectifs. D'une part, elle envisage l'étude des relations de confiance envers les « agents non-humains » que sont les outils technologiques contemporains (algorithmes et données qui définissent l'intelligence artificielle) ; de l'autre, elle entreprend de conceptualiser l'autorité que ces outils sont en train d'acquérir. Le constat de départ est que le déploiement contemporain de l'IA repose sur des formes de confiance envers les machines partagées entre leurs concepteurs et les usagers, qui apparaissent comme le « ciment » des usages garantissant l'efficacité des machines. Or cette confiance s'adresse moins à des outils considérés comme neutres qu'à des entités personnalisées voire personnifiées. Les intelligences artificielles, analysées dans le contexte de leurs usages, se présente déjà comme autre chose que des instruments neutres. Bien qu'encore mal qualifiés sur le plan ontologique, ce ne sont déjà plus de simples outils, mais des agents. Via les services qu'ils rendent et l'influence qu'ils exercent déjà sur les comportements, ils acquièrent une action réelle qu'il convient de documenter et de conceptualiser. Cette démarche en philosophie politique veut examiner la forme d'autorité ainsi engendrée, notamment en imaginant des dispositifs expérimentaux pour tester les hypothèses.
Fichier principal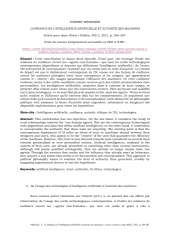 Ménissier Confiance-autorité & IA_Storia e politica 0621_3.pdf (518.74 Ko)
Télécharger le fichier
Origin : Files produced by the author(s)