Au cœur des réseaux africano-soviétiques : archives et trajectoire de l'écrivain-cinéaste sénégalais Ousmane Sembène
This article presents the correspondence of the Senegalese Ousmane Sembene with Soviet writers, officials and his translator, as well as a discussion he held with Soviet writers at the house of the Union of Writers of the USSR in Moscow in October 1958. These documents come from either the collection of the Union of Writers, which is preserved by the Russian State Archive of Literature and Arts (RGALI), or from the one of the Union of Soviet Friendship Societies with Foreign Countries which is held by the State Archive of the Russian Federation (GARF). As well as testifying to the broad network of Soviet-African relations, the documents shed light on Sembene's biography and his early literary and cinematic work. Apart from the practical aspects related to the translation and publication of Sembene's texts, the documents provide information about the impact of his work in the Soviet Union and the way it was received by his Soviet interlocutors. At the same time they show a number of expectations the Soviets had from Sembene, namely, to promote Soviet culture and literature in Africa. Some letters touch upon the role of cinema in Africa and reveal Sembene's views and ambitions. Moreover, the young writer and aspirant filmmaker does not hide his political views. He criticizes the theorists and proponents of négritude and castigates the Society of African Culture, headed by Alioune Diop. Both the discussion and the correspondence illustrate Sembene's views and present the picture of his personal ties and intellectual affinities with his comrades and benefactors on the Eastern side of the Iron Curtain.
À travers deux sources inédites – une discussion orale retranscrite et une correspondance de l'écrivain et cinéaste sénégalais Ousmane Sembène avec différentes personnalités soviétiques (traductrice, savants, écrivains) –, les auteur·e·s de l'article éclairent le réseau des relations africano-soviétiques qui se mettent en place au tournant des années 1950 et 1960, soit avant les indépendances. Les documents présentés ici ont été retrouvés dans les archives russes : dans le fonds de l'Union des écrivains de l'URSS qui se trouve aux Archives d'État de la littérature et des arts (RGALI) et dans celui de l'Union des sociétés d'amitié avec les pays étrangers, conservé aux Archives d'État de la Fédération de Russie (GARF). Au-delà des rapports strictement institutionnels qui se tissent durant la guerre froide, entre pays communistes et pays d'Afrique, la force de ces documents est de révéler les rapports interpersonnels qui se nouent entre l'écrivain sénégalais et différentes personnalités soviétiques, leurs affinités amicales et intellectuelles, d'éclairer également les désaccords théoriques entre Sembène et les tenants de la négritude et de la Société africaine de culture. De plus, ces documents permettent une approche originale de la biographie d'Ousmane Sembène : les lettres présentées donnent à voir la genèse de son œuvre littéraire, sa traduction en russe et la réception de ses écrits en Union soviétique, mais aussi les circonstances et modalités de sa venue au cinéma.
Fichier principal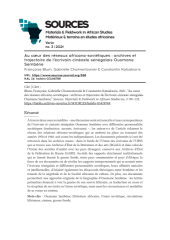 SOURCES_03_04-Blum-Chomentowski-Katsakioris-Au_coeur_des_reseaux_africano-sovietiques.pdf (5.25 Mo)
Télécharger le fichier
Origin : Explicit agreement for this submission