Before the "Inner Worldly Asceticism" : ecclesiastical accounting, government and economic rationality (13th-15th centuries)
Antes del ascetismo intramundano : contabilidades eclesiásticas, gobierno y racionalidad económica (siglos XIII-XV)
Avant l'ascèse intramondaine. Comptabilités ecclésiastiques, gouvernement et rationalité économique (XIIIe-XVe siècles)
The hypothesis put forward in this article is that accounting practices constituted a technique of asceticism and government within religious communities in the late Middle Ages, which inspired merchants to develop an ascetic conception of their own accounting practice and profession. This requires a fresh look at the reasons for the legitimacy and rationality that the use of registers and figures conferred on economic transactions and those who carried them out. To do this, we examine the registers of fifteen institutions in Provence and Italy, eight chapters of canons, a Cluniac priory and six convents of the mendicant orders, as well as manuals and writings of merchants. The different ways in which the accounting instrument is used and the uses to which it is put within the Church coincide with the different forms of religious life, economy of salvation and devotional practices offered by these institutions. The comparative analysis of the methods of auditing the accounts sheds light on the governmental and ascetic functions of accounting entries in Dominican and especially Franciscan convents, where the practices of rendering accounts are more regular and occupy a very important place in the government of communities and orders, as well as in the daily observance of the rule of poverty. These functions derive from a very long normative, theological and practical tradition dating back to the early days of Christianity and monasticism where material and divine accountability, obedience, fidelity and good administration have been assimilated to each other. A reading of the manuals and writings of merchants reveals that these conceptions were adopted by them. This allows us to appreciate in a new light the functions of the ciphering of commercial exchanges and the rationalities underlying these practices.
La hipótesis que se plantea en este artículo es que las prácticas contables constituían una técnica de ascetismo y gobierno dentro de las comunidades religiosas de la Baja Edad Media, lo que inspiró a los comerciantes a desarrollar una concepción ascética de su propia práctica y profesión contable. Ello exige una nueva mirada a las razones de la legitimidad y racionalidad que el uso de registros y cifras confería a las transacciones económicas y a quienes las realizaban. Para ello, examinamos los registros de quince instituciones de Provenza e Italia, ocho capítulos de canónigos, un priorato cluniacense y seis conventos de las órdenes mendicantes, así como manuales y escritos de comerciantes. Las diferentes formas de utilizar el instrumento contable y los usos que se le dan dentro de la Iglesia coinciden con las diferentes formas de vida religiosa, economía de la salvación y prácticas devocionales que ofrecen estas instituciones. El análisis comparativo de los métodos de auditoría de las cuentas arroja luz sobre las funciones gubernamentales y ascéticas de los asientos contables en los conventos dominicos y, sobre todo, franciscanos, donde las prácticas de rendición de cuentas son más regulares y ocupan un lugar muy importante en el gobierno de las comunidades y órdenes, así como en la observancia diaria de la regla de pobreza. Estas funciones se derivan de una larguísima tradición normativa, teológica y práctica que se remonta a los primeros tiempos del cristianismo y del monacato, donde se han asimilado la responsabilidad material y la divina, la obediencia, la fidelidad y la buena administración. La lectura de los manuales y escritos de los comerciantes revela que estas concepciones fueron adoptadas por ellos. Esto nos permite apreciar bajo una nueva luz las funciones de cifrado de los intercambios comerciales y las racionalidades que subyacen a estas prácticas.
L'hypothèse défendue dans cet article est que les pratiques comptables ont constitué une technique d'ascèse et de gouvernement au sein des communautés religieuses à la fin du Moyen Âge, ce qui a inspiré aux marchands une conception ascétique de leur propre pratique comptable et de leur profession. Cela suppose de s'interroger à nouveaux frais sur les raisons de la légitimité et de la rationalité que la mise en registre et le recours aux chiffres confèrent aux opérations économiques et à ceux qui les réalisent. Pour cela, nous nous penchons sur les registres de quinze institutions en Provence et en Italie, huit chapitres de chanoines, un prieuré clunisien et six couvents des ordres mendiants ainsi que sur des manuels et des écrits de marchands. Les différentes modalités de recours à l'instrument comptable et les usages qui en sont faits au sein de l'Église coïncident avec les différentes formes de vie religieuse, d'économie du salut et de pratiques dévotionnelles proposées par ces institutions. L'analyse comparée des méthodes de vérification des comptes éclaire les fonctions gouvernementales et ascétiques des écritures comptables dans les couvents dominicains et surtout franciscains où les pratiques de reddition des comptes sont plus régulières et occupent une place très importante dans le gouvernement des communautés et des ordres, ainsi que dans l'observance quotidienne de la règle de pauvreté. Ces fonctions dérivent d'une très longue tradition normative, théologique et pratique remontant aux premiers temps du christianisme et du monachisme où comptabilités matérielles et divines, obéissance, fidélité et bonne administration ont été assimilées les unes aux autres. La lecture des manuels et des écrits de marchands révèle que ces conceptions ont été adoptées par ces derniers. Cela permet d'apprécier sous un nouveau jour les fonctions de la mise en chiffre des échanges commerciaux et les rationalités qui sous-tendent ces pratiques.
Fichier principal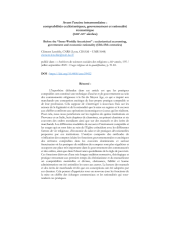 Lenoble_Comptabilités_Assr_195.pdf (423.17 Ko)
Télécharger le fichier
Origin : Files produced by the author(s)