Les auteurs de violence contre leur partenaire intime. Diversité des logiques d'action et des enjeux de soin
This article is based on the results of research by a multidisciplinary team from the University of Bordeaux entitled "The gendered dimensions of violence against intimate partners: understanding the meaning of acts and the meaning of punishment for perpetrators in order to better prevent and reduce this violence" (GENVIPART), to show that the logics of action of violent men towards their intimate partners "are at the intersection of the logics of masculinity (...) and the logic of capacity for social action". The author thus raises the question of whether the object of care should not only be on the side of addictions and psychopathologies but also on the side of the mechanisms of masculinities.
Les auteurs de violences contre leur partenaire intime ont longtemps été l'angle mort des politiques publiques, plutôt orientées vers une meilleure prise en charge des victimes. Néanmoins, la connaissance des logiques d'action qui conduisent des hommes à être violent envers leur partenaire intime a pour principal intérêt d'outiller l'action publique en matière de prévention du passage à l'acte et de la récidive. Basé sur les résultats provisoires d'une recherche pluridisciplinaire (GENVIPART) intégrant la dimension genrée de ces violences, cet article montre que ces logiques d'action ne se résument pas à des conditions sociales ou à des traits de personnalité mais qu'elles sont à l'intersection des logiques de masculinité (notamment dans le rapport au contrôle et au narcissisme) et des logiques de capacité d'action sociale (empêchées dans les milieux précarisés et contrariés dans les milieux mieux insérés socialement). De sorte que, outre la sanction pénale, la notion de prise en charge par le « soin » semble concerner moins les addictions et les psychopathologies que les mécanismes même des masculinités.
Fichier principal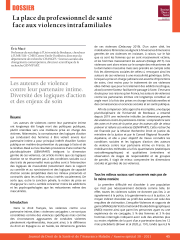 Eric Macé.pdf (201.34 Ko)
Télécharger le fichier
Origin : Explicit agreement for this submission