"Activating" participation and deliberation: a convergence between public and private experiences?
« Activer » la participation et la délibération : une convergence entre expériences publiques et privées ?
Confronted with what has been experienced as a crisis in their efficacity, participatory democracy experiences have entered a new cycle aimed at "optimizing" their production. This translates into new forms of public design. It is a matter of "putting the participants to work" in order to achieve collective productions. This communication describes two processes, one public, "The G400", set up during the public debate of the french energy policy planification, the other private, "Let's speak about energy" deployed at EDF at the same period. These two cases illustrate a new porosity between public and private spheres of discussion. The comparison between these two cases opens up new areas of discussion between disciplines interested in work and politics.
Face à ce qui a été vécu comme une crise de leur efficacité, les expériences de démocratie participative sont entrées dans un nouveau cycle visant à « optimiser » leur production. Cela se traduit par de nouvelles formes de constitution des publics (par exemple via le tirage au sort) et par « l'activation » de la participation. Ill s'agit de « mettre au travail » les participants pour aboutir à des productions collectives. Cette communication décrit deux dispositifs, l'un public, « Le G400 », mis en place lors du débat public de la Programmation Pluriannuelle de l'Energie (PPE), l'autre privé, « Parlons Energie » déployé à EDF à la même période. Ces deux cas illustrent une porosité nouvelle entre sphères de discussion publique et privé. La comparaison entre ces deux cas ouvre de nouveaux espaces de discussion entre les disciplines s'intéressant au travail et au politique.
Fichier principal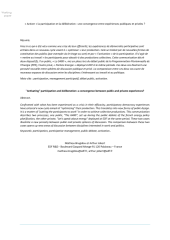 Activer les publics_Brugidou_Jobert_working paper.pdf (297.89 Ko)
Télécharger le fichier
Origin : Files produced by the author(s)