What is a health emergency?
Qu'est-ce que l'état d'urgence sanitaire ?
To respond to the Covid-19 epidemic, law No. 2020-290 of 23 March 2020 creates, among other measures, a state of health emergency. This state of emergency confers special administrative police powers on the Prime Minister, the Minister for Health and on State representatives if duly authorised. It allows unprecedented limitations on the exercise of rights and freedoms. While its promoters argue that there is no continuity break in the rule of law, the singular arrangements made to it were repeated or even normalised, up to the point to modify the very notion of the rule of law.
Pour répondre à l'épidémie de Covid-19, la loi no 2020-290 du 23 mars 2020 crée, entre autres mesures, un état d'urgence sanitaire. Cet état d'exception confère des compétences de police spéciale au Premier ministre, au ministre chargé de la santé et, sur habilitation, aux représentants de l'État. Il permet des limitations sans précédent à l'exercice des droits et libertés. Si ses promoteurs insistent sur la continuité de l'État de droit, les arrangements singuliers apportés à ce dernier tendent cependant, ces dernières années, à se répéter, voire à se normaliser, au point que le concept même d'État de droit pourrait s'en trouver modifié.
Fichier principal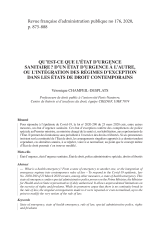 4_Champeil_RFAP_2020.pdf (134.06 Ko)
Télécharger le fichier
Origin : Files produced by the author(s)