The Crimean bridge(s) before 2014 : the discontinuities of a long history
Le(s) pont(s) de Crimée avant 2014 les discontinuités d'une longue histoire
Numerous projects for bridges across the Kerch Strait were conceived in the past, prior to the current bridge commissioned in 2018. The focus is on the decisions that successively led successive protagonists in this history to launch (or abandon) projects between 1903 and 2014, and the factors of economic geography and geopolitics that guided these decisions over time. In conclusion, one can imagine what effect a normalization of Crimea's international legal status might have on today's bridge traffic.
De nombreux projets de ponts traversant le Détroit de Kertch ont été conçus dans le passé, avant le pont actuel mis en service en 2018. On s'intéresse aux décisions qui ont conduit successivement les protagonistes successifs de cette histoire à lancer (ou à renoncer à) des projets entre 1903 et 2014, et aux facteurs de géographie économique et de géopolitique qui ont orienté ces décisions au fil du temps. En conclusion, on imagine quel effet pourrait avoir une normalisation du statut juridique international de la Crimée sur le trafic du pont d'aujourd'hui.
В статье рассмотрены все известные проекты постройки мостов через Керченский пролив до открытия ныне действующего в 2018 г. Раскрыты особенности принятия соответствующих решений о строительстве между 1903 и 2014 гг. и выявлены экономико-географические и геополитические факторы, которые обусловили их принятие в соответствующую историческую эпоху. Завершает исследование возможное виденье будущего использования Крымского моста в контексте нормализации международного правового статуса Крымского полуострова.
У статті розглянуто всі відомі проєкти побудови мостів через Керченську протоку до відткриття сучасного мосту, що функціонує від 2018 р. Розкрито особливості прийняття відповідних рішень про будівництво між 1903 і 2014 рр. та виявлено економіко-географічні й геополітичні чинники, що обумовили їх прийняття у відповідну історичну епоху. Завершує дослідження ймовірне бачення майбутнього використання Кримського мосту в контексті нормалізації міжнародного
Fichier principal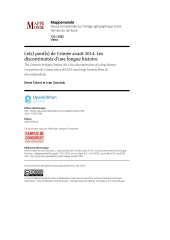 2022_Pont_Crimée.pdf (969.71 Ko)
Télécharger le fichier
Origin : Publisher files allowed on an open archive