« Mais ce n'est pas de la musique kanak ça ! ». The Youth Process of Affirming a Kanak Identity Music (1982-1986)
Inaugurating new perspectives on the time known as «kanak awakening» (Chappel 2013), this paper is aimed at focusing on the evolution of the kaneka, a musical, artistic and intellectual movement born in the 1980s, during the struggle for recognition of the kanak identity. The article, sourcing from a major research work still in progress, retraces the context in which the kaneka took place, shedding light on its protagonists and the different relationships established, drawing upon the original work of the «équipe du patrimoine»: a group composed by young local fieldworkers, kanak activists, ethnomusicologists, ethnographers, all brought together by the independentist political agenda. It is indeed from an attentive analysis of this historical period that it's possible to discern one of the specificities of the Kanak culture management: a complex "knowledge circulation apparatus" aimed at re-animating the political consciousness through the transmission of local knowledge. As the paper seeks to highlight, kanak cultural policies were in fact the result of a dialogue between an "exceptional" generation returning from the "metropole" and the experience and creativity of young people actively engaged on the field. It is indeed in this moment of exchange and shared experience that the famous Canala meeting gave rise, in 1986, to kaneka.
Partendo da un lavoro di ricerca ancora in corso, l'articolo tenta di rileggere il periodo del «risveglio kanak» (Chappel 2013) a partire dall'evoluzione del kaneka: un movimento musicale, artistico e intellettuale nato negli anni Ottanta, durante la lotta per il riconoscimento dell'identità kanak. Si ricostruisce il contesto nel quale esso ha preso forma, facendone emergere i protagonisti e le diverse relazioni messe in campo a partire dall'originale lavoro dell'« équipe du patrimoine »: une gruppo composto da giovani fieldworkers locali, attivisti kanak, etnomusicologi ed etnografi, e gestito direttamente dai quadri politici indipendentisti. Dall'analisi di questo periodo storico emergere una delle specificità della gestione kanak della cultura: ovvero un complesso "apparato di circolazione dei saperi" volto alla riattivazione di coscienze politiche attraverso la circolazione delle conoscenze locali. Le politiche culturali kanak sono state infatti il risultato di un dialogo tra una generazione "eccezionale" di ritorno dall'esperienza in "métropole" e la creatività dei giovani impegnati attivamente sul territorio. Proprio in questo clima di scambio e riflessione collettiva ha preso forma la celebre riunione di Canala che nel 1986 ha dato ufficialmente vita al kaneka.
Fichier principal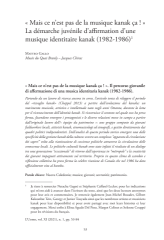 2021 Gallo, Mais ce n'est pas de la musique kanak ça.pdf (169.65 Ko)
Télécharger le fichier
Origin : Publisher files allowed on an open archive