From Tamajaght to French... To translate is to betray, but how far?
De la tamajaght au français... Traduire, c'est trahir, mais jusqu'où ?
This paper discusses the problems and challenges of translating into French the work of a Tuareg poet, Hawad, who writes in his language, Tamajaght (Amazigh linguistic family), notated in the Tifinagh alphabet, here vocalised . Several questions are examined concerning the fact of writing in his language for an African author; the vocalisation of the consonantic alphabet of Tifinagh by the Tuaregs in the 1970s; the practical consequences of the status of minored languages on translation and translation tools; the choices made when moving from one language to another in the poetic register; neologisms...
Cet article traite des problèmes et des enjeux de la traduction en français de l'œuvre d'un poète touareg, Hawad, qui écrit dans sa langue, la tamajaght (famille linguistique amazighe) notée en alphabet tifinagh vocalisé. Plusieurs questions sont abordées concernant le fait d'écrire dans sa langue pour un auteur africain ; la vocalisation de l'alphabet consonantique des tifinagh opérée par les Touaregs dans les années 1970 ; les conséquences pratiques du statut des langues minorées sur la traduction et les outils de traduction ; les choix opérés lors du passage d'une langue à l'autre dans le registre poétique ; les néologismes...
Fichier principal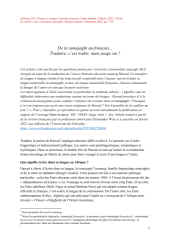 HCH_Traduire_IFS_2022.pdf (7.95 Mo)
Télécharger le fichier
Origin : Files produced by the author(s)