Le roman mêlé ou la condition métisse de l'art du roman selon Adam Thirlwell
For Adam Thirlwell, the art of the novel hinges on a poetic of miscegenation in which métissage can offer ways to apprehend the international scope of contemporary experience while also leading to the creation of original and authentic forms of artistic expression. Since in his fiction, the ethic of contamination drives forward poetic invention and existential discoveries, We propose to study the ways his fiction seems to reject the very idea of purity of identity, culture and language, instead resorting to métissage as a horizon of creation that heralds impurity as an aesthetic ideal capable of expressing the motley quality of existence.
Pour Adam Thirlwell, l'art du roman s'élabore selon une poétique du mélange dans laquelle le métissage permet de penser l'existence en donnant forme à une expression artistique originale et authentique. L'éthique de la contamination devient ici vecteur de liberté et de nouveauté, c'est pourquoi nous proposons dans cet article d'étudier la manière dont cette oeuvre semble rejeter toutes conceptions puristes de l'identité, de la culture et de la langue afin de promouvoir le métissage comme horizon de création, et l'impureté comme idéal esthétique capable de refléter la nature bigarrée de l'existence.
Fichier principal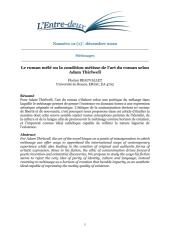 12.1.8.BEAUVALLET.pdf (252.27 Ko)
Télécharger le fichier
Origin : Files produced by the author(s)