L'aven à restes humains du Trou de la Coupe à Touvre (Charente) : considérations sur la problématique des dépôts humains dans les grottes en Gaule au second Âge du Fer
The "Trou de la Coupe" sinkhole in Touvre (Charente, France), only partially excavated, has yielded the skeletal remains of at least twelve individuals, eight adults and four children, dating from La Tène C or even La Tène D. Some bones display cutmarks, others were broken when still green. The funerary hypothesis has not been adopted, yet no satisfactory solution can be put forward in the current state of research, until new excavations provided further information. The data from the Trou de la Coupe are compared with those from other sites in Gaul, particularly the Trou de l'Ambre in Eprave (Belgium), which also yielded human remains from the La Tène period.
L'aven du Trou de la Coupe à Touvre (Charente, France), incomplètement fouillé, a livré les restes d'au moins douze personnes, huit adultes et quatre enfants, datables de La Tène C, voire de La Tène D. Certains os portent des traces de découpe, d'autres des cassures sur os frais. L'hypothèse funéraire est rejetée, sans que pour autant une solution satisfaisante puisse être proposée, dans l'état actuel de l'information avant reprise de la fouille. Les données du Trou de la Coupe sont confrontées à celles d'autres sites de Gaule ayant livré des restes humains laténiens, en particulier à ceux du Trou de l'Ambre à Éprave en Belgique.
Fichier principal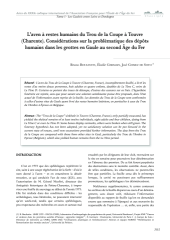 Boulestin_et-al_2009_103-111.pdf (641.88 Ko)
Télécharger le fichier
Origin : Explicit agreement for this submission
Licence : CC BY NC ND - Attribution - NonCommercial - NoDerivatives