The Balancing Act of Sustainable Development: An Ethnography of experts and expertise in sustainability in urban production
Les équilibristes du développement durable.Une ethnographie des experts et de l'expertise en durabilité dans la fabrique urbaine.
This dissertation, at the crossroads of urban studies and the sociology of professional groups and expertise, explores the characteristics of a group of experts in sustainable development engaged in the processes of urban production in the 2010s. This work is based on an ethnographic study of the activity of a team of about twenty specialists working at Alpha, a multi-specialized and international urban engineering company that is part of a broader urban services business. My work shows that the existence of this group of experts, its journey, and its structuring features fundamentally reflect its members' ability to address the ambiguities of sustainable development in order to maintain and reformulate a diversified need for expertise (consulting services, study reports, urban foresight, tool development). Thus, they take care of a multidimensional problem within the company and conquer new markets of urban expertise. The differentiated appropriation of sustainability principles in these activities reflects the dynamics of legitimization between experts and other actors in the professional worlds of urban engineering, consulting and urban planning and design. The delimitation and extension of the experts' professional jurisdiction requires that they constantly perform a balancing act which both underscores the uniqueness of their skills and of the knowledge, and the diversity of their professional fields. These results were collected from 2013 to 2018 from the position of a practitioner researcher. This dissertation thus contributes to identifying both the processes through which of a group of actors (re)-positions themselves at the heart of the urban fabric and the ways through which the outlines of sustainable development are renewed.
Cette thèse, à la croisée des études urbaines, de la sociologie des groupes professionnels et de l'expertise, interroge les caractéristiques d'un groupe d'experts en développement durable dans la fabrication urbaine des années 2010. Ce travail s'appuie sur l'étude ethnographique de l'activité d'une équipe d'environ vingt spécialistes exerçant au sein d'Alpha, une société d'ingénierie multi-métiers en construction d'envergure internationale, intégrée à une firme de services urbains essentiels. Notre travail montre que l'existence, l'itinéraire et les modalités de structuration de ce groupe d'experts reflètent fondamentalement leur capacité à se saisir des ambiguïtés du développement durable pour entretenir et reformuler un besoin diversifié d'expertise (conseils, études, prospective, développement d'outils). Ils prennent ainsi tout à la fois en charge un problème multidimensionnel au sein de l'entreprise et partent à la conquête de nouveaux marchés d'expertise urbaine. L'appropriation différenciée de la durabilité dans l'activité traduit des dynamiques de légitimation entre les experts et les autres acteurs des mondes de l'ingénierie, du conseil, et de l'urbanisme, qui fonctionnent comme des écologies liées. La délimitation et l'extension du territoire d'activités des experts nécessitent de leur part un travail permanent d'équilibriste pour faire valoir la singularité de leurs compétences et de leurs savoirs, et défendre la diversité de leurs professionnalités. Un dispositif réflexif accompagne ces résultats obtenus selon une posture de praticien-chercheur tenue entre 2013 et 2018 (observation-participante, entretiens, analyse de matériaux indigènes). Cette thèse contribue ainsi à cerner simultanément les dynamiques de (re)positionnement d'un groupe d'acteurs au cœur de la fabrique urbaine et celles de renouvellement des contours du développement durable.
Fichier principal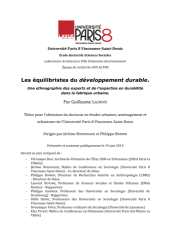 THESE-LACROIX-G-PUBLIQUE-PDF.pdf (6.2 Mo)
Télécharger le fichier
Origin : Files produced by the author(s)